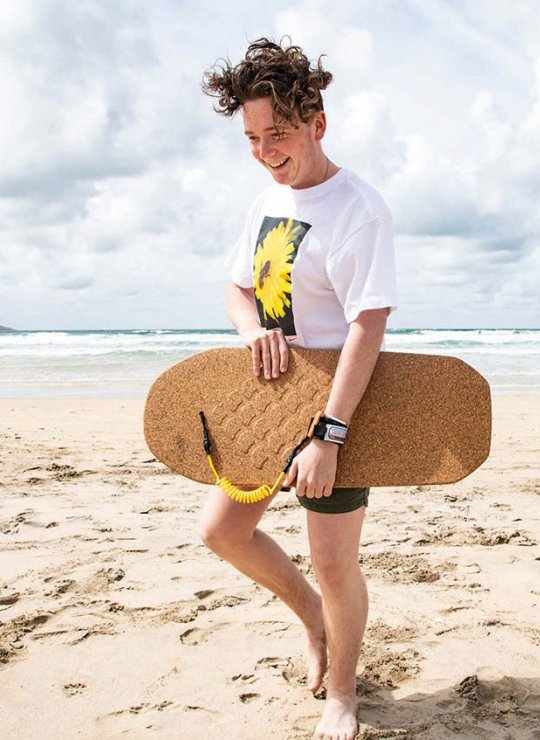 Sustainable Product Design BA(Hons)
Become a conscientious product designer equipped to make a real difference.
Course overview
Sustainability isn't just in the title of this degree; it's embedded across the course. Inspired by the natural environment around us, our students harness creativity to design innovative solutions to global sustainability challenges.  
You'll explore critical issues related to product design and sustainability, how to exclude potential waste at the design stage and create products with longer lifespans, using materials responsibly. Through live briefs, guest lectures and opportunities to collaborate with students across the University, you'll also gain critical professional practice skills and start to build your network while you study. 
You will:
Develop digital design and manufacturing skills with access to modern 3D printing and CNC technologies 
Get hands-on in the workshop to prototype your ideas through a broad range of materials and processes 
Design and create your own projects, either independently or with an industry partner 
Proactively build your network and develop career pathways, with opportunities to meet industry practitioners and take on live project briefs 
Tackle global challenges by teaming up with students from across the University on collaborative projects  
Throughout this Sustainable Product Design degree, you'll develop a detailed understanding of design theory, processes and practices, with a focus on human-centred design. You'll learn to critically evaluate sustainable design approaches and develop hands-on and digital manufacturing skills. You'll also acquire vital professional practice skills, including how to communicate your ideas (through CAD and visual communication), team-working and network-building. 
In your first year, you'll develop creative and conceptual skills by exploring major global issues, the visual language of sustainable design and its critical and theoretical processes. You'll learn to professionally communicate your ideas through drawing, model-making and 3D computer-aided design (CAD). You'll also discover the strategies designers use to develop sustainable products and begin to understand how to evaluate and defend sustainability claims. 
Modules
Creativity & Communication
This module focuses on the creative methods designers use to inspire and develop design ideas. Through a series of creative exercises, you'll develop specialist skills in design communication including sketching, graphical presentation of ideas, Adobe Photoshop and 3D CAD. Local field trips to the coast, gardens and woodlands will inform observational drawing and creative design thinking inspired by nature. 
Sustainable Design Principles
You'll investigate the materials, methods and tools product designers use to reduce the environmental impact of their design concepts. You'll learn about sustainable design strategies and apply this to your design practice. There will be a particular focus on wood as a material. To support model-making and prototyping activities, you'll learn how to use a range of basic wood workshop equipment. 
Life Cycle Thinking 
This module introduces a range of tools to assess the environmental impact of a product throughout its lifetime. The examination of existing products will underpin discussions relating to material selection, manufacturing processes, use and disposal. 3D CAD skills will focus on parts, assemblies, and manufacturing drawings. Adobe InDesign sessions will help you to present final outcomes of project work in a professional and coherent way.  
Design Ethics 
In this module, you'll examine key global issues that are informing design debates for sustainable change. The connection between theory and practice is emphasised and explored through human-centred studio projects aimed at developing innovative design solutions. You'll continue to develop your woodworking skills by prototyping design concepts in response to the module brief. 
In your second year, you'll study inclusive design and human-centred research before delving into collaborative projects with other courses and industry partners. You'll also develop your CAD and digital manufacturing skills and debate the contexts, concepts and ethics of the industry. Focusing on the business of design, you'll explore what's involved in producing a product – from intellectual property to cost and profitability. 
Modules
Design & Business
In this module, you'll investigate re-design opportunities for existing products to reduce environmental impacts. While questioning the commercial viability of your concept, you'll also consider social and environmental impacts. Business skills will focus on Intellectual Property and design protection. Throughout the module, you'll work collaboratively using digital design and manufacturing tools. 
Inclusive Design
This module introduces the principles of inclusive design and human-centred design strategies. You'll learn primary research methods such as observation, shadowing, simulation and empathy. You'll also cover data collection techniques, recording and documenting research findings, as well as evaluation strategies. 
Collaboration
Working as part of a team, you'll work on 'Challenge Briefs' that reflect the sort of assignments you could expect to be working on in industry. Developing your 'soft skills', like communication, problem-solving, critical thinking and leadership, you'll sharpen your ability to work well as part of a group to produce outstanding work. 
Circular Economy
You'll be challenged to respond to live projects with industry to support the design of innovative products or services that engage with the circular economy. Your design skills will be tested in real contexts through project partnerships and mentoring with external organisations. 
You'll explore current and original design opportunities, develop your ideas through tutorials and team discussions and turn your concepts into prototypes using skills like digital manufacturing. By delivering one-to-one and group presentations, you'll focus on professional practices and management. There'll be opportunities to gain real-world experience and make valuable connections by working with external project partners and meeting project partners and startups. 
Modules
Design Drivers
You'll establish the direction of your final year studio project by investigating the contextual and theoretical drivers that will underpin your design work. You'll engage in secondary and primary research techniques to develop a strong rationale that drives your creative practice. This will be articulated through a written design report. 
Design Visions
You'll develop and articulate critical rationales and professional practice skills in preparation for your final year studio design practice modules. You'll apply research in and to real-world contexts, providing insights that inform and guide the creation of a personal design brief and the creative process. 
Design Ambitions
This module will create an opportunity to reflect on your skills and ambitions, helping you define a career pathway for life after university. It is about 'career readiness' as you transition from university to the workplace, self-employment, or postgraduate study.
Design Futures
The final module of the undergraduate programme will provide you with the time and support to develop resolved design outcomes to a professional standard through advanced prototypes and communication materials. 
The modules above are those being studied by our students, or proposed new ones. Programme structures and modules can change as part of our curriculum enhancement and review processes. If a certain module is important to you, please discuss it with the Course Leader.
From module information to course aims and assessment criteria, discover the full course details
Sustainable Product Design - Luke Meller final year project
Sustainable Product Design - Nuria Romero Juncosa final year project
How you'll learn
Sustainable Product Design students work in groups and individually to generate and apply innovative creative practices to understand how design is a powerful force which can create positive environmental, ethical and economic change.  
The modules are designed to develop the skills and understanding you'll need to become confident and professional designer. Sustainable design thinking is embedded in every module, so you'll learn not only how to design but why some ideas and approaches have more meaning and value than others. This critical perspective is a key part of the learning journey and will underpin your transition into professional practice. 
The course encourages a design studio culture where students work in partnership to develop and share their ideas using drawing, model making, and industry-standard Computer Aided Design (CAD) software. Hands-on making skills in both traditional workshop tools and digital prototyping technologies, including 3D printers, CNC mills and Laser cutters, are developed throughout the course. 
Lectures 
Seminars 
Academic workshops 
Practical workshops 
Tutorials 
Learning team meetings 
Field trips 
At Falmouth, we use a 'digitally enhanced learning & teaching' approach. Your experience will always be predominantly in-person, including seminars, tutorials and studio teaching, with some, more targeted elements, being online either live (synchronous) or pre-recorded (asynchronous). You can read more here.
How you'll spend your time
Year

Timetabled

teaching and

learning

activity

Guided

independent

study

1

25%

75%

2

25%

75%

3

23%

77%
How you'll be assessed
| Year | Written exams | Practical exams | Coursework |
| --- | --- | --- | --- |
| 1 | 0% | 0% | 100% |
| 2 | 0% | 0% | 100% |
| 3 | 0% | 0% | 100% |
The above percentages relate to 2019/2020 data. 
Assessment methods
Continuous assessment with no formal examinations 
Visual, verbal and written assignments, and your final-year projects 
Staff
You'll learn from practicing designers, researchers, alumni and academics with extensive knowledge and experience in design and sustainability.
Some members of staff only teach on specific modules, and your course might not feature every staff member who teaches on the course.
See a selection of project work from our recent Sustainable Product Design BA(Hons) graduates.
Facilities
Sustainable Product Design students will have access to professional facilities and equipment from the School of Architecture, Design & Interiors. This includes: 
High-spec workshops and studio space 
Rapid prototyping equipment 
CAD/CAM equipment including laser cutters, CNC milling and routing machines 
A range of digital printing capabilities, plus industry-standard 2D and 3D software 
Eco-material library and access to physical samples 
Subject specific library with multiple on-line resources 
Student support and academic support services 
IT - WiFi and open access IT suites across both campuses 
Online Learning Space with 24/365 access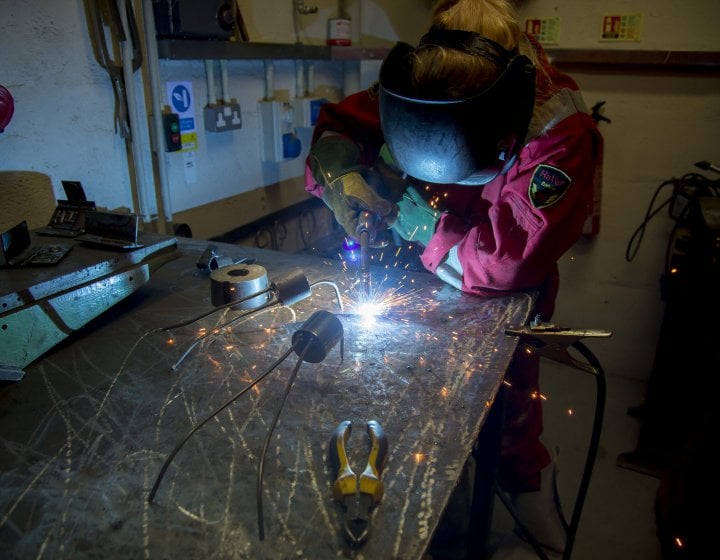 Art Facilities_01
Art & Design Facilities
Primarily located at the Falmouth Campus in a subtropical garden, our studios and workshop facilitie...
Art & Design Facilities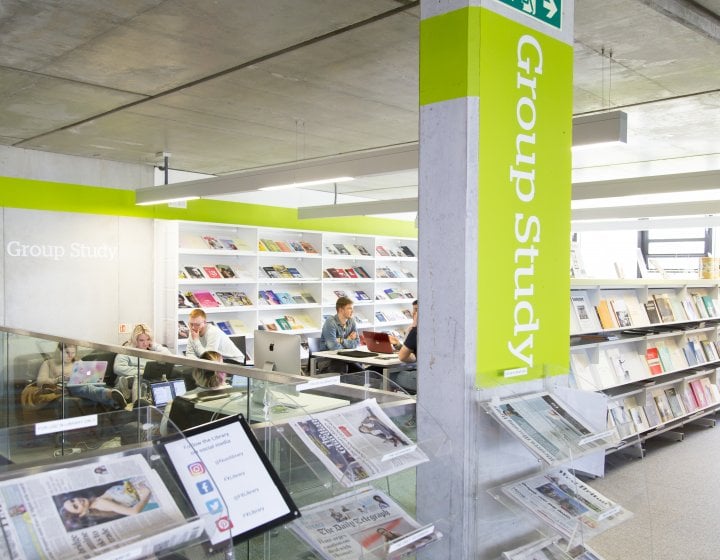 Penryn library group study area
Library Facilities
Offering extensive collections, our two libraries provide a wealth of digital resources, magazines, ...
Library Facilities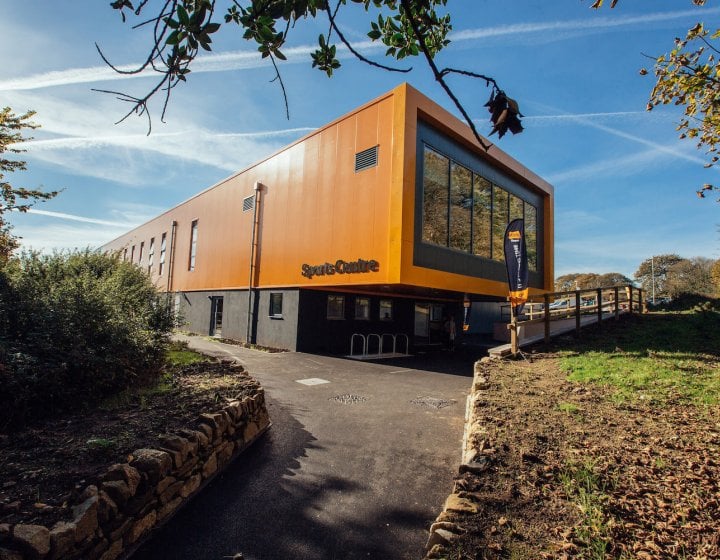 Sports Centre - Outside
Sports Centre
Sports Centre
Our Sports Centre, on Penryn Campus, includes a spacious gym with up to 90 of the latest, new statio...
Sports Centre
Graduates could go on to work across a range of sectors in a variety of roles, including: 
Junior/senior designer in product design agencies  
Design researcher 
Product designer, including toys, lighting and furniture  
Sustainable consultants   
Sports products designer 
Healthcare product designer 
Independent designer/maker  
Service/UX designer  
Packaging designer 
Exhibition and shop fitting designer 
Community focused co-design and social enterprises  
2D & 3D visualisation and rendering services 
Apply via UCAS
Ready to join us? You can apply for September 2022 through Clearing or for September 2023 through UCAS Apply and Track. You'll need to reference the course and University code (F33).
Applying as an international student? 
International students can apply for a course through UCAS, via an agent or directly with the university. For more information about how to apply as an international student, visit our International applications page.
| Course route | UCAS code |
| --- | --- |
| Sustainable Product Design BA(Hons) three year degree | W250 |
We consider all applications on their own individual merit and potential. We invite all applicants to an interview day or audition to give them the opportunity to demonstrate this along with what inspires and motivates them in their field. Applicants will also be able to show their portfolio or give a performance depending on the course. We welcome applications from all subject backgrounds, whether you've specialised in STEM, the arts or humanities.  
| Course route | Entry requirements |
| --- | --- |
| BA/BSc(Hons) three year degree | 104 – 120 UCAS Tariff points |
UCAS Tariff points will primarily be from Level 3 qualifications such as but not limited to A-levels, T Levels, a BTEC/UAL Extended Diploma or a Foundation Diploma.
For applicants whose first language is English we require you to have or be working towards GCSE English Language Grade 4 (C), or equivalent. 
If English is not your first language you will need to meet the same standard which is equivalent to the IELTS Academic 6.0 overall score, with at least 5.5 in Reading, Writing, Speaking and Listening. We accept a range of in country equivalencies and approved tests.  
If you need a student visa to study in the UK, you'll need to take a recognised language test that is approved and vouched for by the University. You can read our English Language Requirements for more information.
For starting your studies in 2022
UK applications: 26 January 2022 (for equal consideration)
Applications after the 26 January will be considered on a first-come, first-served as long as there are places available. Apply for this course now.
For starting your studies in 2023
UK applications: 25 January 2023 (for equal consideration)
Applications after the 25 January will be considered on a first-come, first-served as long as there are places available. Apply for this course now.
International fee payers
International fee payers can apply throughout the year. But we recommend applying as early as possible, to make time for visa and travel arrangements.
We want someone who:
Understands drawing/mark-making, including composition, colour, form, graphical presentation, creative exploration and development.
Knows about 3D/product design practitioners or other artists and designers, and can relate this knowledge to their own work.
Understands the design process, including concept development, investigation into materials and production methods, and technical skills.
Has research and analytical skills.
Shows commitment and enthusiasm for the subject, as well as motivation, communication skills and creative thinking.
Tuition fees
| Annual tuition fee | Student |
| --- | --- |
| £9,250 per year | Full-time UK |
| £17,460 per year | Full-time EU/international |
| Annual tuition fee | Student |
| --- | --- |
| £9,250 per year | Full-time UK |
| £17,460 per year | Full-time EU/international |
Tuition fees are set annually and are subject to review each year. The University may therefore raise tuition fees in the second or subsequent years of a course, in line with inflation and/or the maximum permitted by law or Government policy. Students will be notified of any changes as soon as possible. 
The figures above don't include accommodation and living costs
Typical course costs
Recurring annual costs
£100-150 – Materials, including drawing and model making equipment, and workshop materials for prototyping.
Optional study trips
£600 – Study trips (European study trips are normally for 4/5 days during study block 2 (subject to travel restrictions) and cost approximately £600. We would take a deposit of £150 in study block 1 to confirm places on the trip.) 
One-off costs for the duration of the course
Safety glasses - Honeywell A800 Safety Glasses Anti-Mist, clear or similar EN166-1F Polycarbonate Anti-Scratch safety glasses, approximately £3 
Face mask - 3M 4255 Half Mask Respirator, approximately £30 
Ear Defenders - RS Components RS Pro, 27dB Ear Defender and Headband or similar ANSI S3.19 NRR, CE, EN 352-1 ear defenders, approximately £4 
5 metre metal tape measure, approximately £5 
Retractable Stanley knife and blades, approximately £6 
A6 notebook and A3 sketchbooks, approximately £15 
A3 layout pads and tracing paper, approximately £14 
12" safety steel ruler, approximately £3 
A3 cutting mat, approximately £5 
Swann-Morton safety scalpel and 10A blades(4packs), approximately £7 
Graphite and colour pencils, fineliner pens (0.3 mm, 0.5 mm, 0.7mm), Letraset Tria markers (Tonal range of 3), approximately £25 
A laptop is essential. We recommend budgeting around £800 - £1500 for a minimum specification as follows: 
PC Laptop, Windows 10 64bit or Apple MacBook PRO (16inch) with dual boot Windows installed.
Processor: Intel: 10th gen Core i5, i7 or i9, AMD: Ryzen 3000 or 4000 series 
RAM: 8GB Minimum, 16GB or higher recommended 
Graphics: Dedicated graphics cards with 2GB RAM. (Nvidia RTX or AMD Radeon) 
Storage: 250GB - 1TB storage capacity 
Screen size: 13" or larger 
If you need to bring equipment or materials with you, these will be outlined in your Welcome Letter.
What better way to find out about life at Falmouth University than by asking our current students?
From course details and academic support, to the social scene and settling in, our students are ready and available to answer any questions you might have. Simply set up your account, send them a question and they'll get back to you within 24 hours.