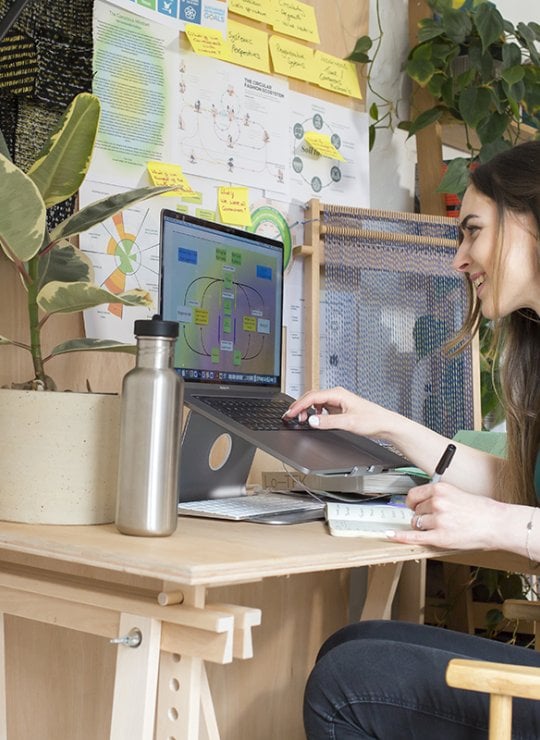 Sustainable Fashion MA (Online)
Become a conscious changemaker in the 21st century fashion industry.
Key details
Subject to validation during this academic year
Course overview
This course is new for entry year 2023
Develop a radical and circular approach to designing a pioneering, sustainably focused fashion system and challenge existing industry practices through ethical, regenerative and inclusive change. Through this online master's degree in Sustainable Fashion, you will gain the knowledge and skills to design the pioneering transformation needed to address the complex environmental, social, cultural and economic challenges we face throughout the fashion system.
Joining a global community of informed, visionary and collaborative change-makers, you will design innovative solutions to global and local challenges that deliver a responsible, sustainable and ethical impact on people and the planet.
By fostering a conscious mindset, you will envision new sustainable futures, question the purpose of design, develop responsible systems and assess the impact of social innovations within fashion communities.    
Different to a traditional studio maker-based course, this Sustainable Fashion MA is designed to empower you to influence the future of fashion through the development of advanced creative and systems thinking practices, and to design outcomes in a multitude of forms that will affect systemic change.
You will: 
Graduate as a pioneering fashion practitioner, empowered to lead and reform the fashion industry 
Build a deep understanding of the fashion industry in the global sustainability context and learn how to drive the changes needed to deliver positive, responsible change 
Develop advanced knowledge of social innovation design, systems thinking and design thinking 
Utilise creative problem-solving approaches to find strategic solutions to complex problems across design, production, and business functions 
Seek and create diverse networks across the fashion sector 
Develop a conscious practice that filters decision making through a sustainable and ethical lens 
Start dates: January / May / September
(Three intakes per year)