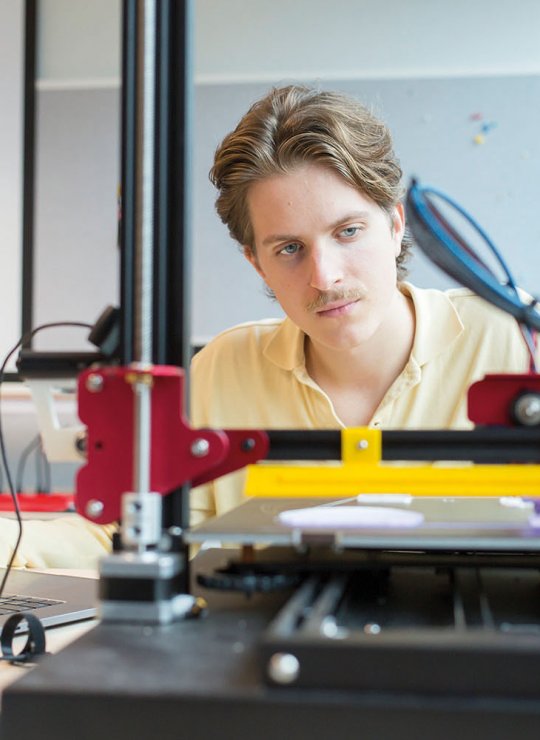 Robotics BSc(Hons)
Create interactive robots that respond to the challenges of modern life.
Key details
Course duration
3 years / 4 years
Attendance
Full-time / Sandwich
UCAS code
I490 (3 year)/ I491 (4 year)/ FY04 (IFY)
Subject to validation during this academic year
Course overview
Explore the world of artificial intelligence and the solutions it can provide through robotics – from the rapid growth of the Internet of Things, to providing entertainment, company and helping people to live more sustainably. 
After establishing a firm foundation in developing software and hardware, you'll apply your skills to both individual projects and major collaborations. On this Robotics degree, we'll provide you with exciting opportunities to bring your ideas to life by designing engaging human-robot interactions and working prototypes.
You will:
Apply your skills to inspiring projects spanning creative and technical domains, on briefs set by industry partners
Build robots that interact with people and environments in novel and interesting ways
Develop an understanding of the environmental, societal and cultural context for robotics and the implications for the design, engineering, deployment and adoption of robotic technologies
Implement robotic systems that leverage state-of-the-art artificial intelligence
Obtain a mastery of programming and physical fabrication by working on practical problems in a bespoke social robotics lab
The Integrated Foundation Year pathway for this course is new for entry year 2023 and subject to validation.