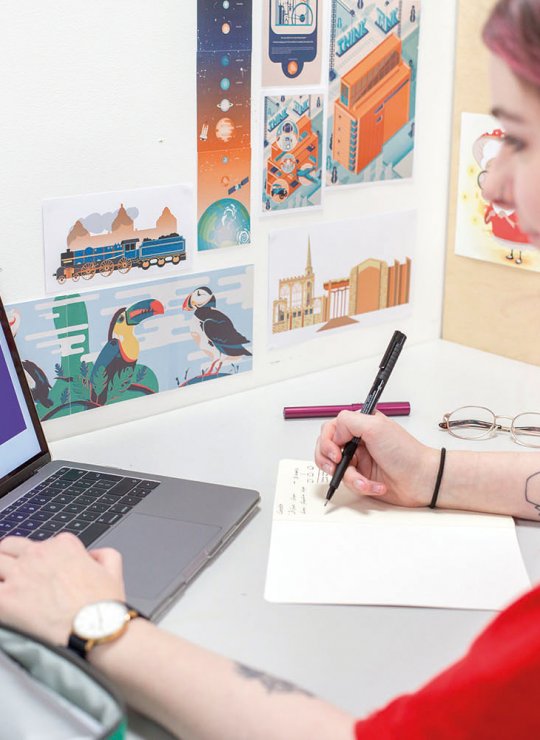 Illustration BA(Hons) (Online)
Discover your unique illustrative voice.
Key details
Course duration
2 years / 3 years
Attendance
Full-time / Part-time
Course overview
This course is new for entry year 2022
Learning from experienced academics and connecting with an impressive programme of guest speakers, you'll be challenged to test boundaries, explore new approaches and apply your illustration practice to a diverse range of industry sectors. You'll also gain the professional practice and entrepreneurial skills needed to turn your talent into a successful career.   
You will:
Experiment with a range of media and practices, integrating established and emerging technologies, to realise your own authentic visual language 
Master visual communication and visual problem-solving through working on industry-informed projects and briefs  
Receive feedback on your final year work from leading international art directors, publishers, editors and designers 
Gain exposure to key players in the creative industries by submitting your work to our dedicated online magazine Wunderkammer 
Prepare for industry by exploring multiple creative pathways and considering the wider contextual, ethical and professional contexts of your practice 
Through project work, live briefs and client meetings, you'll be encouraged to push your creative limits and enhance your technical and practical skills, while gaining valuable professional practice experience. You'll also develop your contextual understanding and expand your critical analysis and visual problem-solving skills through a combination of lectures, webinars, guest talks and discussion forums.
You'll begin by exploring the art of visual problem-solving, identifying a range of strategies for research and idea development. Through practical work and critical theory sessions, you'll discover and experiment with varying media and processes, using established and emerging technologies to explore your own visual language. You'll also investigate the wider contextual, ethical and professional environments of the industry, focusing on Editorial and Narrative applications.
Modules 
Innovate
In this introductory module, you will get under the skin of visual storytelling. By observing how the conversations, events and objects around you capture your imagination, you will discover a broad range of problem-solving strategies to help you produce innovative illustrative solutions.  
Delivered through a series of projects, critical studies and independent research, this module will introduce illustration's practical, theoretical and historical contexts, and equip you with vital conceptual thinking skills.  
Apply
In this module you will investigate how editorial illustration operates within the industry and how it communicates with its corresponding audience. You will develop your research, problem solving, analytical and time management skills through working on text-based thematic projects, exploring the value and function of visual communication in the context of the editorial illustration industry.
Explore
This module supports you to experiment with a wide range of media, mark making techniques and drawing styles, initiating a crucial exploration of visual language. 
To begin to identify and strengthen your own visual language you will engage with themed projects that encourage mark-making in all its forms, including wet and dry media, drawing, digital process, collage and 3D assemblage, and colour and compositional theory.   
Life drawing, printmaking, colour, composition and digital skills workshops are embedded alongside webinars that will allow you to engage in an experimental approach to media, process and mark-making.  
Communicate
This module focuses on narrative illustration, exploring its different features alongside a variety of applications for publishing. 
You will undertake thematic projects which will provide you with an understanding of context and audience, and will develop skills such as sequential thinking, character development and storytelling. 
There will be an ongoing focus on analysis, visual communication, media and process. It will provide a framework to utilise and develop your visual language while strengthening your time management skills.
Through critical theory lectures, workshops in life drawing, digital skills, colour and composition and print-making, you'll refine your practice and expand your industry knowledge. Embarking on project briefs independently and in collaboration with your peers, you'll investigate information illustration and then move on to an advertising project. Collaborative work will build your project management, communication and team-working skills, which are vital in industry.
Modules 
Shape
This module enables you to make decisions about the future direction of your work through testing of skills developed earlier in the course, and through engaging in critical studies related to contemporary illustration practice. 
A variety of contexts may underpin each project: commentary (editorial and journalistic themes), persuasion and identity (advertising and promotion), narrative fiction (adult themes and young audiences), non-fiction/information (educational, documentary and instructional themes) authorial (self-initiated, self-published).  
You will be challenged and supported to develop your visual problem-solving techniques whilst refining your visual language through experimentation with media and process, while deepening your knowledge of the theoretical, historical and contemporary issues related to editorial, journalistic illustration, advertising and promotion, narrative fiction and information illustration. 
Evolve
The illustration industry is broad and evolving, and in this module, you will gain vital insights into a range of industry contexts, platforms and applications including information, design, product and packaging; digital, printed and site-specific platforms.  
With an ongoing focus on visual problem-solving, you will gain an understanding of the specific features of these different illustrative contexts, and how they operate within the industry according to their different functions and audiences. 
Refine
This module is all about uncovering and evolving your authentic illustrative voice. Through a series of workshops and lectures led by professional practitioners, you will discover new ways to experiment, reflect and refine your visual language.  
Taking this toolkit of knowledge, you will create a self-directed project to challenge your ongoing practice, led by a theme or process inspired by your own interests and ambitions. Through experimentation with a range of established and emergent technologies alongside reflective and analytical research, you will work collaboratively with peers to progress and evolve as an illustrator. 
Share
Working as part of a team, you'll work on 'Challenge Briefs' that reflect the sort of assignments you could expect to be working on in industry. Developing your 'soft skills', like communication, problem-solving, critical thinking and leadership, you'll sharpen your ability to work well as part of a group to produce outstanding work. 
Through self-negotiated projects, you'll continue to refine your creative practice and visual problem-solving skills, formulating a range of strategies to best communicate ideas to audiences. In ambitious live projects, working with clients and/or your peers, you'll showcase your honed team-working and professional practice skills. You'll also evidence your strategic critical and analytical skills, choosing to take an entrepreneurial, educational or illustrative pathway.    
The final Employability module is all about launching your illustration career. You'll gain real feedback from leading international designers, publishers, editors and art directors and have the opportunity to participate in a self-organised work placement.  
Modules 
Define
In this module you will be empowered to design your own practice projects, tailored to your personal interests and skills within illustration. Developed via negotiation with your tutor, your practice projects will enable you to challenge yourself within your chosen area and enhance your research, visual problem-solving and technical skills in the production of original and innovative visual solutions.  
Through ongoing visual experimentation and evaluation, you will further refine your authentic visual language through several outcomes in the form of a body of work. 
Reflect
Geared towards helping you excel within the creative industries, this module focuses on professional practice. Facilitated through a programme of lectures, you will build reports and personal research into areas including; self-promotion, marketing, industry working processes and procedures, self-publishing, collaborative and entrepreneurial opportunities, transferrable skills and business management - all aligned to the changing needs of industry. .
Reach
The module requires you to engage with an extended programme of research, leading to a written research report analysing a subject of your choice tailored to your personal interests and skills within illustration. 
Supported by a programme of themed lectures and workshops, you will research and analyse a variety of sources to write a research report, developed via negotiation with your tutors. This report will enable you to challenge yourself within your chosen area and develop fundamental skills accordingly, such as research, analysis and project management. 
Connect
Through continued negotiated projects, this self-directed module will support you in the creation of a professional digital portfolio, equipping you to enter the visual communication industries with strong project management, analytical and reflective skills.  
You will build a body of work utilising appropriate processes defined by your strengths and interests within the broad spectrum of illustration, demonstrating your intellectual, technical and self-reflective skills, to consolidate an emerging authentic visual language that connects and communicates with industry. 
The projects you design via negotiation with your tutors will enable you to push and challenge yourself in your chosen areas and enable you to refine research, visual problem-solving and technical visual skills in the production of original and innovative visual solutions.  
Industry week, towards the end of the module, will provide you with feedback on your portfolio from international art directors, publishers, designers and agencies, and may take the form of a placement (to be arranged by students on an individual basis). 
The modules above are those being studied by our students, or proposed new ones. Programme structures and modules can change as part of our curriculum enhancement and review processes. If a certain module is important to you, please discuss it with the Course Leader.
How you'll learn
You'll learn through a blend of lectures, webinars, guest talks, tasks and discussion forums, which you'll access via our dedicated virtual learning environment. This is also where you'll find all key documentation, get course announcements and access extensive learning resources.
You'll be supported academically by Online Tutors, who will also deliver weekly webinars, facilitate the online forums and provide one-to-one bookable feedback tutorials. If you need assistance with anything that isn't directly related to course material, a dedicated Student Advisor team will be on hand to help. You'll also have access to Falmouth University's excellent employability service, RealWORKs.
You'll refine dynamic illustration practices, spending 27-50 hours a week working on your craft, depending on whether you choose to study full-time or part-time. We incorporate optional face-to-face events for all our online students. There will be up to two per year and will typically run over weekends, to fit around your other commitments.
How you'll be assessed
The BA Illustration online degree course employs a variety of assessment strategies over the course of the year. These can include submission of portfolios, reviews and reports, pitches, reflective journals, competition analysis and final projects.
Your summative (final) assessments occur at the end of each module, usually at the end of the study block. You may also have interim formative assessments part way through a module as well. These assessments help ensure that you remain on track with your work.
You will receive continuous written and/or verbal feedback on all your work throughout the year. At the end of the module, you will receive detailed feedback in written form.
You'll be able to check in with your online tutor to discuss your progress and ask any questions you have about your course.
What our students do
Read about the students and graduates from our Falmouth School of Art community.
Staff
Our diverse team of internationally recognised academics are practicing illustrators, writers, artists, graphic designers and art directors, who have won multiple awards for their practice. Having worked with clients such as BBC, The Economist, The New Yorker and Penguin, staff are often key in helping our students find work connections and opportunities.
Some members of staff only teach on specific modules, and your course might not feature every staff member who teaches on the course.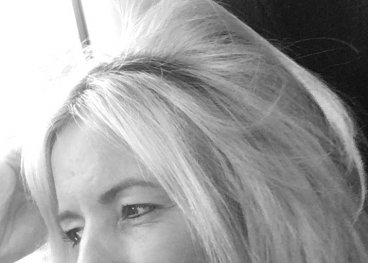 Keryn Bibby
Head of Illustration
Keryn Bibby is qualified with a BA(Hons) in Graphic Information Design from the Falmouth School of A...
Keryn Bibby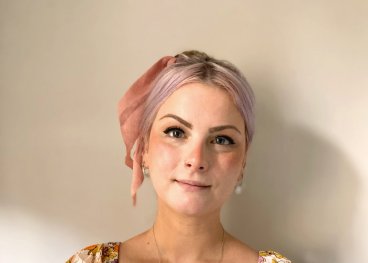 Suzi Kemp
Lecturer and Module Leader, Illustration BA(Hons) (Online)
Suzi Kemp is an illustrator who specialises in expressive hand lettering, combining analogue media a...
Suzi Kemp
Facilities
24/7 access to Falmouth's extensive online library of contextual books, journals and resources
Accessible online audio / visual content
Dedicated virtual learning environment
Face-to-Face events - usually run twice a year*
Invitation to attend alumni events
Access to online software tutorials at LinkedIn Learning
Students' Union community
Access to our Student Support Services and a Student Advisor to support you throughout your studies
*Please bear in mind that the Covid-19 pandemic may impact these events. You can view the latest information here.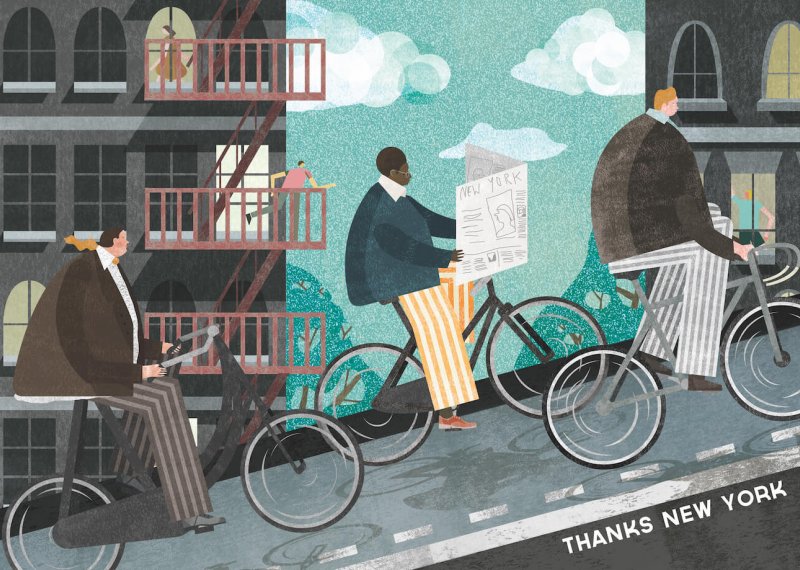 " It's great working with Falmouth Illustration BA every year. The graduates' work impresses me. "
As a graduate you could become:
A freelance illustrator within the context of editorial, advertising, information or narrative
An illustrator within virtual reality, app design, television, film graphics, graphic design, set design or animation
An art director
An illustration agent
An educator in primary, secondary, further or higher education
Need further information or support?
If you'd like to talk to an Advisor about this course, or your application, get in touch by using the simple form below. We'll get right back to you to answer any questions and support your application journey. 
Apply now
Ready to join us? You can study part-time in 2022 or you can study part-time or full-time in 2023.
To apply for part-time in 2022 click the button and apply directly below.
To apply for 2023, you can apply for the full-time route through UCAS Apply and Track using the University code: F33 and course code: W224. The part-time route for 2023 will open shortly.
We consider all applications on their own individual merit and potential. We invite all applicants to an online interview to give them the opportunity to demonstrate this along with what inspires and motivates them in their field. Applicants will also be able to show their portfolio or give a performance depending on the course. We welcome applications from all subject backgrounds, whether you've specialised in STEM, the arts or humanities.
| Course route | Entry requirements |
| --- | --- |
| BA/BSc(Hons) degree | 104 – 120 UCAS Tariff points |
UCAS Tariff points will primarily be from Level 3 qualifications such as but not limited to A-levels, T Levels, a BTEC/UAL Extended Diploma or a Foundation Diploma.
For applicants whose first language is English we require you to have or be working towards GCSE English Language Grade 4 (C), or equivalent. 
If English is not your first language you will need to meet the same standard which is equivalent to the IELTS Academic 6.0 overall score, with at least 5.5 in Reading, Writing, Speaking and Listening. We accept a range of in country equivalencies and approved tests.  
If you need a student visa to study in the UK, you'll need to take a recognised language test that is approved and vouched for by the University. You can read our English Language Requirements for more information.
For starting your studies in 2022
The enrolment deadline for online undergraduate courses is 30 September 2022. You may enrol up until 14 October 2022 with special permission.
Applications for these courses remain open whilst there are spaces available. We encourage you to apply as early as possible to avoid disappointment.
For starting your studies in 2023
The enrolment deadline for online undergraduate courses is TBC. You may enrol up until TBC with special permission.
Applications for these courses remain open whilst there are spaces available. We encourage you to apply as early as possible to avoid disappointment.
What we're looking for
We want someone who:
Is independently minded, able to connect and collaborate, and driven to create change.
Tuition fees
| Annual tuition fee | Student |
| --- | --- |
| £10,400 per year | 2 years accelerated full-time |
| £6,935 per year | 3 years part-time |
| Annual tuition fee | Student |
| --- | --- |
| £10,400 per year | 2 years accelerated full-time |
| £6,935 per year | 3 years part-time |
Tuition fees are set annually and are subject to review each year. The University may therefore raise tuition fees in the second or subsequent years of a course, in line with inflation and/or the maximum permitted by law or Government policy. Students will be notified of any changes as soon as possible. 
The figures above don't include accommodation and living costs
Typical course costs
Essential materials
As a new student to BA(Hons) Illustration it is expected that you start to build your own personal stockpile of materials and media to expand and evolve your visual language. Essential materials will be outlined in your Welcome Letter.
Face-to-face events (optional)
As an online student you will be given the opportunity to attend up to two events per academic year to meet your classmates and tutors in person. Dates and location of the events will vary.  
Costs of the events themselves are covered, however you will need to cover your own costs for travel, accommodation, food and drink. More information about these events will be given to you when you start your course, but you should expect them to cost between £100-800 depending on the location and duration. 
Computer/Laptop
You will need to purchase a laptop/desktop computer. It is an essential piece of equipment that you will need right from the start of the course. Our students use both PCs and Macs.
For more information, please speak to a Course Advisor
Adobe Creative Cloud
You may be eligible for discounted licenses through Adobe's education pricing, however there is currently no discount for Adobe Creative Cloud available from Falmouth University. If any discounts do become available, we will communicate this to you.
For more information please visit Adobe Creative Cloud.
As work during the course can be created in any medium at the choice of the individual, the exact equipment requirements may differ according to your practice and preferred ways of working. The costs of these materials will need to be covered by the student.
What better way to find out about life at Falmouth University than by asking our current students?
From course details and academic support, to the social scene and settling in, our students are ready and available to answer any questions you might have. Simply set up your account, send them a question and they'll get back to you within 24 hours.