How to get Ahead as a Creative with Intern Mag's Alec Dudson
17 February 2020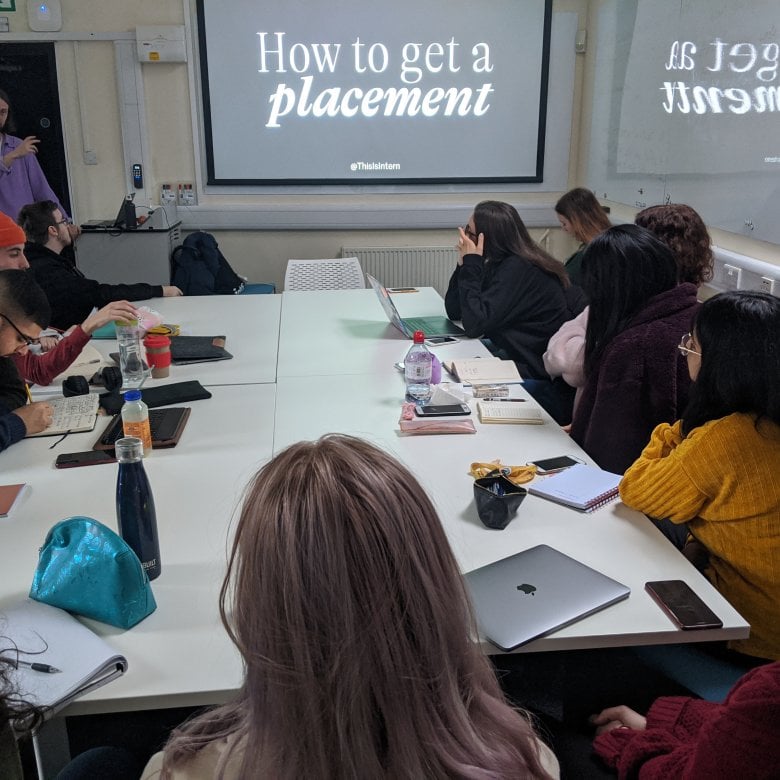 Creative Advertising guest speaker Alec Dudson
Why would you put yourself in that small, apologetic, bottom-of-the-rung box?"
- reels our recent Creative Advertising guest speaker, Alec Dudson of Intern Magazine, to a class full of slack-jawed creatives on their new Work Placement module.
Since the launch of this Work Placement module, students have had facetime with Falmouth's own creative agency, MAYN and valuable input from AMV/BBDO, Vodafone, The&Partnership and Kindred, all revealing insights and techniques to bridge the gap between study and work. 
Now it was the turn of Alec, who is Editor-in-chief at Intern and also lectures on our online MA Graphic Design degree, to share his insight on how to get a placement and make the most of this module...
Lesson #1: Stop calling yourself a student. It's never too early to start shaping and believing your creative self as something powerful and of value.
At the end of this 12-week module, jobs, titles, placements and breaking in to the industry will feel less like a sheer rock face and more like stepping stones. Best of all, you'll know where you might be stepping to thanks to critical self reflection. This second year module smashes tired ideas of what 'careers' are and creatively reimagines the 'job hunt'. Beyond mere career advice, it is a provocation to do. How? Through a smorgasbord of speaker-led workshops, live briefs and work experience and crucially, space. Space to exploit the transferrable skills and professional networks a Falmouth advertising degree provides.
Lesson #2: Control your own narrative. Your story, alongside your portfolio of ads, is the most unique and interesting thing a graduate has. Stories are powerful, they illustrate intangible qualities about a person; far more potent than bullet points on a CV. See your story as the sum of all the content and work you put out there. And what better time than at university to experiment, to do real world things, and to craft a narrative of who you are, one that showcases who you are through your work because doing is far more powerful than just saying.
Lesson #3: Do not email! If you want advice, connections, opportunities - this requires legwork and lateral thinking. Email is too safe and easy to ignore. Be in situations that facilitate real human conversations. Or make something living that commands attention. Build your brand creatively. It is the most important brand you'll ever work on.
A creative advertising degree doesn't mean you are solely destined for 'junior creative'. This module broadens those horizons so that you may design your own job and steer your own path. This employment strategy becomes part of your story, your interests, skills and ideas in action outside of the ads in your portfolio alone. A powerful iteration of what you learn here. This understanding of yourself, your unique essence, being more than just a student, could well be the key that unlocks opportunities for you, far beyond advertising and marketing alone.