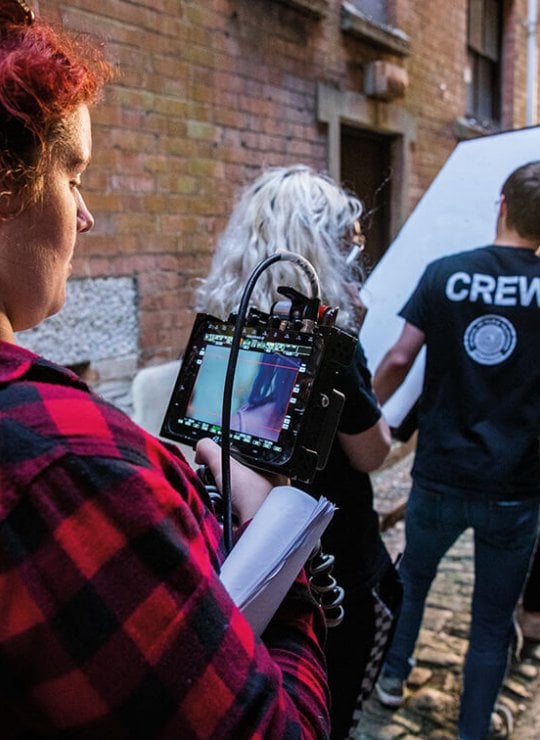 Film BA(Hons)
Immerse yourself in the world of film, where time, space and form translate into meaning and feeling.
Key details
Course duration
3 years / 4 years
Course overview
In developing your understanding of the contexts and history of film culture, and articulating your own response to cinematic storytelling, you'll find your place in our exciting film community while developing as a critically aware professional, ready to join our alumni in this fast-moving global industry.
As part of multidisciplinary teams, you'll develop your craft on this degree through hands-on experience in a specialist facility that mirrors real-world practices.
You will:
Get networked, learning from award-winning staff and visiting professionals. Industry experts who've given masterclasses in recent years include Joel Collins, Sarah Gavron, Jonathan Glazer, Adam Gough, Kim Longinotto, Emily Morgan, Carol Morley and Rubika Shah
Develop by learning through doing, engaging in reflective and imaginative thinking and using professional production workflows
Study on course accredited by ScreenSkills, in a facility that's part of CILECT and the ENVY Academy for post production
Have the chance to work on our in-house micro-budget short and feature films through our Sound/Image Cinema Lab. Previous productions include Bait (Mark Jenkin, 2019), Make Up (Claire Oakley, 2020), The Tape (Martha Tilston, 2021), Long Way Back (Brett Harvey, 2022) and Film4's Enys Men (Mark Jenkin, 2022)
The Integrated Foundation Year pathway for this course is new for entry year 2023 and subject to validation.
This course is industry recognised by ScreenSkills, the industry-led skills body for the UK's screen-based industries, and carries the ScreenSkills Select quality-mark which indicates courses best suited to prepare students for a career in the screen industries.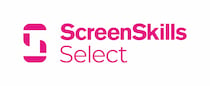 On this Film degree, you'll have the opportunity to gain a BA(Hons) degree over three years or the option to study Film BA(Hons) with Integrated Foundation Year.
Building on a range of approaches to cinema through viewing, discussion and analysis, you'll direct your own learning. Choose from pathways including documentary, narrative or experimental short filmmaking, production, post-production editing, grade and sound design, marketing and publicity, and short and feature-length screenwriting.
Learning to create, work and negotiate with others in a productive and collaborative environment will shape you into a dynamic professional.
You'll understand how working with others can help broaden your own thinking and knowledge to give impact, relevance and reach to your creative work.
Our film school boasts Screenskills and CILECT accreditations, which are awarded to courses delivering the very best creative thinking, industry-relevant training, exceptional staff, facilities and partnerships.
BA(Hons) Film course video
In the first year of your Film degree, you'll be introduced to the fundamental principles of filmmaking as an art form, industry and cultural object. You'll have the opportunity to get to grips with a variety of skills and craft specialisms and start to think about the wider contexts of film culture and business. The focus of the first year is on laying the groundwork through collaboration, project development and the innovative and groundbreaking moments in film history, helping you to gain a deeper understanding of the filmmaking process and its results. Live briefs, set in a similar mode to those found in the contemporary film and creative industries, will prompt your work. You'll also have the chance to visit an international film festival.
Modules
Production Cultures 1
This module will introduce you to the creative, technical, organisational and interpersonal skills that are central to successful film production. A series of weekly tasks will develop your knowledge of the language of cinema, while encouraging networking within your cohort. Film is a communal, collaborative art and the final project will be completed by crews of six students working in defined industry roles – writer, director, producer, cinematographer, editor and sound designer – to produce a short film.
Production Cultures 2
This module will extend the creative, technical, organisational and interpersonal skills developed in Production Cultures 1 to encompass budgeting, design, marketing and film distribution.
Cultural Contexts
In this module, you'll begin thinking of film studies as an intellectual and academic discipline through the study of key approaches to theory, criticism and modes of analysis.
Industrial Contexts
This module foregrounds a range of contexts, both historical and contemporary, to consider how industry, audience, and film texts are inextricably bound together in film and television industry practice.
You'll build on your interests and passions by embarking on specialist pathways - focusing your learning and cinema knowledge in an environment that recognises and embraces the medium's changing nature. These pathways include gender and representation, experimental film, short and feature film screenwriting, environmental cinema and all aspects of production and post-production. We also offer the opportunity to engage in placements at NBC/Universal Hot House programme.
Modules
Skills Development 
Identifying your own interests, you'll develop skills in a chosen specialism – sound design and editing, editing and post-production, producing, screenwriting or cinematography and art direction – and showcase your growing understanding of collaborative practice, professional processes and industry contexts.
Creative Delivery 
Building on Skills Development, this module allows you to deploy and evolve skills and competencies in applied filmmaking practice from the conception of creative ideas through project development and production to delivery.
Projects developed and created for this module will go through an industry-style pitching process (not assessed) that will ensure they're significantly imaginative, practicable and aligned to professional practice.
Genre 
This module aims to develop your understanding of the role genre plays in film industry and culture, both historically and contemporarily, and how the idea of 'the cinematic' is closely connected to genre and has spread in influence to other modes and forms of media entertainment.
Cinema of Experience
This module will inspire you by offering contemporary cinematic examples and conceptual frameworks to situate film and serial narrative/documentary forms in wider cultural, social, political and global contexts, such as gender, race, class and sexuality.
In your final year, you'll continue your work in exploring the wider contexts of film culture and cinema through a dedicated module exploring the voices of The Other. If you're interested in postgraduate study, you may choose to undertake a dissertation in a cinematic subject area related to your interests. Pursuing filmmaking practice, you'll immerse yourself in a year-long project of creative cinematic endeavor. You'll channel your learning into a cinematic object, such as a narrative or documentary film, an experimental film or feature-length screenplay. This year is even more closely aligned to industry practice than the previous, with professionals choosing the work that you'll create and sitting on assessment panels to judge its development. The artefacts assessed will reflect, in form and content, contemporary film and creative industries practice. 
Modules
Pitch Deck 
Through this module, you'll become immersed in film practice. Assessment will reflect professional creative industry processes, contexts and cultures, resulting in an ambitious, innovative and complex cinematic project.
The Other 
This module opens your eyes to the potential offered by digital technology in cinema. Starting from a historical perspective, you'll be invited to appreciate the creativity of the under-/less privileged and to recognise cinema as a potent and flexible medium of expression and communication for all backgrounds and cultures.
Dissertation 
Focusing on academic study, you'll develop high levels of subject expertise and intellectual autonomy as you originate, research, and write a dissertation in an area of your choice.
Sales Deck
This module reflects professional creative industry processes, contexts and cultures. As a result, you'll work on an ambitious, innovative and complex cinematic project that could propel you into a career in the film, television and combined creative industries.
Why study an Integrated Foundation Year route?
If you're taking on a new subject that you haven't studied in depth before, have been out of education for a while or have a non-standard educational background then an Integrated Foundation Year degree may be the right choice for you. It is a four-year degree with an Integrated Foundation Year to start, which allows you to explore the primary elements of your subject before progressing on to the remaining three years of the BA(Hons) degree.
What you'll learn
If you choose this pathway, you'll study five core modules in your Foundation year. These are all designed to help you explore the foundational elements of your subject. You'll gain relevant technical skills, learn to experiment and take risks, develop an understanding of professional practice, have opportunities to work across disciplines and collaborate with other students on live project briefs.
Modules
Explore
You'll begin your foundation year by working collaboratively with others to explore themes of the future. You'll take risks, experiment through play and be supported to break through barriers.
Technique
You'll take subject-specific workshops and develop essential technical and practical skills in your area of study. You'll also enhance your analytical and organisational abilities.
Apply
You'll work with your peer group to think beyond discipline by addressing a societal or global issue. You'll then showcase your work to your peers and deliver and accompanying evaluation of your process.
Industry
You'll enhance your creative and practical skills in your subject specialism by responding to typical industry briefs, underpinned by focused research and experiments. You'll also gain industry insights through guest lectures and workshops.
Launch
You'll develop your unique identity in your specialism through the production of a self-initiated body of work. Your final project will be the bridge to your next year, fully supported by evaluative reviews and critical analysis of the work you have created.
After the Foundation year, you progress into Year One of the full three-year degree, equipped with a deeper knowledge of your subject, a clear understanding of your strengths, and develop a practical and technical skillset and the confidence to excel in your chosen subject.
The Integrated Foundation Year pathway for this course is new for entry year 2023 and subject to validation.
The modules above are those being studied by our students, or proposed new ones. Programme structures and modules can change as part of our curriculum enhancement and review processes. If a certain module is important to you, please discuss it with the Course Leader.
From module information to course aims and assessment criteria, discover the full course details.
We are making changes to our curriculum framework for courses starting in 2022. Modest amendments to our course module structure will provide you with new opportunities to collaborate and co-create with students from across disciplines during your studies.
This course page will be updated when these changes have been finalised and applicants will be notified.
How you'll learn
From taking on live briefs with industry clients through our creative agency MAYN, to attending panels and masterclasses with scholars and practitioners, you'll learn to meet the needs of your chosen sector and mirror the film industry's workflow and creative environments. You'll learn from lecture and production series, our careers masterclass programme, final-year supervision scheme, workshops, tutorials, and self and peer evaluation.
Each year is also your chance to gain work experience and internships, and we'll encourage you to get involved in industry and academic opportunities and events.
At Falmouth, we use a 'digitally enhanced learning & teaching' approach. Your experience will always be predominantly in-person, including seminars, tutorials and studio teaching, with some, more targeted elements, being online either live (synchronous) or pre-recorded (asynchronous). You can read more here.
How you'll spend your time
Year

Timetabled teaching

and learning activity

Guided

independent study

Integrated

Foundation

Year (optional)

1

39%

61%

2

35%

65%

3

32%

68%
How you'll be assessed
Year
Written exams
Practical exams
Coursework

Integrated

Foundation

Year (optional)

0%
0%
100%
1
0%
25%
75%
2
0%
25%
75%
3
0%
33%
67%
 The above percentages relate to 2019/2020 data.
Assessment methods
F

oundation year assessments are 100% coursework based

Continuous assessment with no formal examinations.
Visual, verbal and written assignments.
Dissertation in your final year.
What our students do
Take a look at the stories below to discover more about our amazing School of Film & Television community.
Staff
You'll learn from an experienced team of writers and makers, including short and feature film directors, producers, cinematographers, editors, screenwriters, sound designers, and art directors. Our facilities team includes specialists in lighting, cinematography and post-production picture and sound editing.
Some members of staff only teach on specific modules, and your course might not feature every staff member who teaches on the course.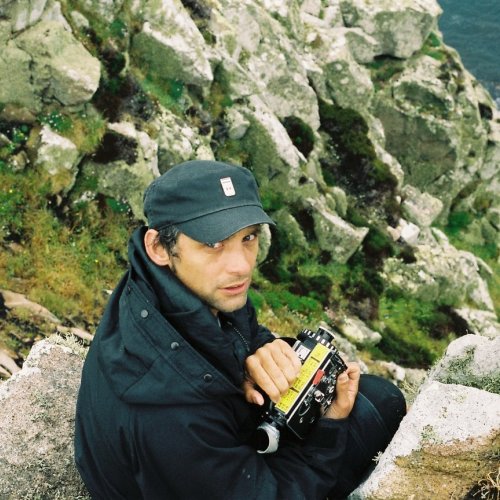 Mark Jenkin
Mark Jenkin becomes Falmouth's first Distinguished Professor
---
Mark Jenkin is a BAFTA award winning filmmaker who's worked at Falmouth University as an associate lecturer for over a decade - find out more about his new role.
Read more
Facilities
129-seat cinema, with Christie M Series 2.5k projection and 7.2 surround sound.
Four large production studios:
Production Studio 1:  multipurpose studio equipped with three Sony HXC-FB80 studio cameras, chromatte grey - screen and full lighting rig. Integral live gallery including 4-input Tricaster Ultra HD production system.
Production Studio 2: multipurpose studio and support area for studio 1.
Production Studio 3: multipurpose studio with lighting rig.
Production Studio 5: Specialist green screen studio with infinity cove & 360 degree subject lighting rig. Access to Xsens motion capture kit and VR/AR/MR equipment.
Nine Mac Pro edit suites with Avid Media Composer, Adobe Creative Cloud Suite & Da Vinci Resolve.
Two specialist grading suites featuring DaVinci Resolve and 4K preview screens.
Two 28-seat 'Post Hubs' for post-production software training, equipped with dual screen Apple iMacs. Software available includes Avid Media Composer, Adobe Creative Cloud, Da Vinci resolve and Pro Tools. Production management software is also available.
25-seat dubbing theatre with Avid S6 mixing desk and Pro Tools Ultimate.
Three further post-production audio suites – all equipped with Pro Tools Ultimate.
Foley/ADR suite with access to a wide range of mics, foley traps and props.
All post-production suites network-linked to Avid NEXIS shared storage system for seamless access and integration of projects.
Digital cameras (HD to 4K) including Arri Alexa, RED, Sony, Canon, Blackmagic, Panasonic, and Arri SR3 and Bolex 16mm film cameras. Odyssey 7Q+ External Recorders are also available.
Wide range of hot and cold (LED) lighting equipment including systems by Arri, Dedo & Kino Flo alongside traditional blondes and red heads.
Grip and gimbal systems available include Free-Fly Movi M5, Wally Dolly, Indie Dolly, PD1 Dolly, Koolertron Sliders, Glidecam 2000, Libec and Camcrane Jibs.
Audio equipment includes Sound Devices 633 mixers, recorders and an extensive range of microphones.
Four animation software studios containing powerful Dell Precision Workstations with Cintiq 24" & 27" pen displays. Software available includes Autodesk Maya (3D), TV Paint (2D) and Foundry Nuke Studio (VFX Compositing), alongside Adobe Creative Cloud Suite.
Dedicated stop-motion animation studio equipped with Canon EOS camera bodies, Nikon lenses, manfrotto grip and Dragonframe capture software.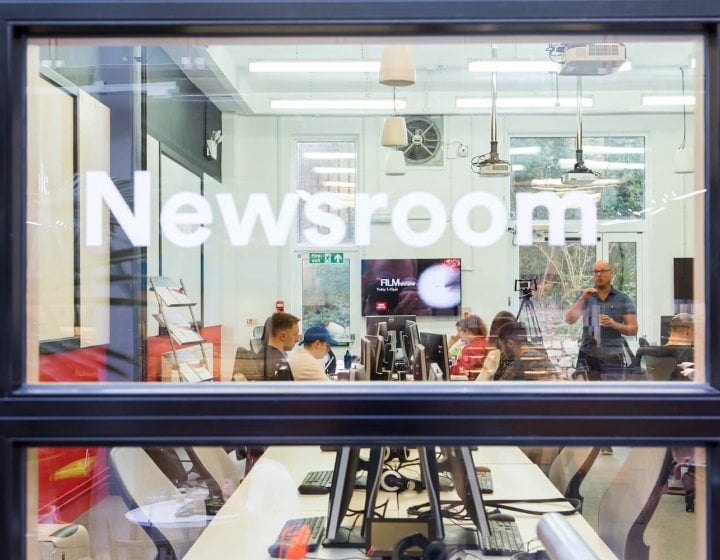 SoWJ Newsroom through window lecturer talking
Media Equipment and Facilities
Our industry-level facilities offer everything you need to practice and produce animation, film, TV,...
Media Equipment and Facilities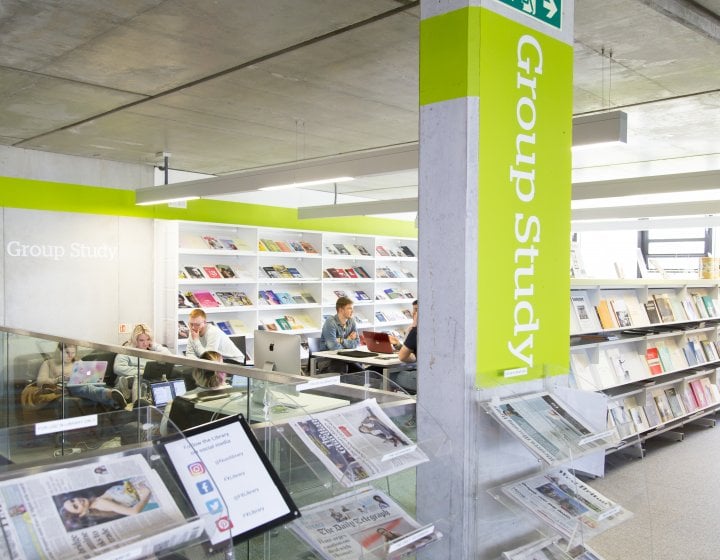 Penryn library group study area
Library Facilities
Offering extensive collections, our two libraries provide a wealth of digital resources, magazines, ...
Library Facilities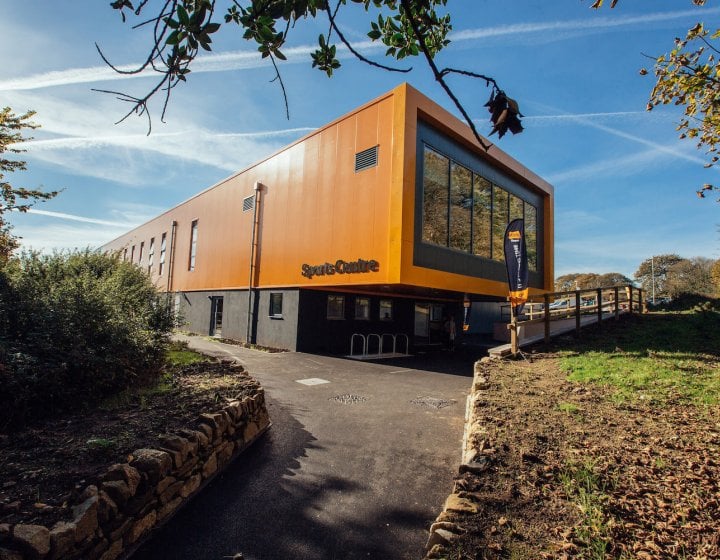 Sports Centre - Outside
Sports Centre
Sports Centre
Our Sports Centre, on Penryn Campus, includes a spacious gym with up to 90 of the latest, new statio...
Sports Centre
Falmouth film graduates work in the development and production of feature films and television, with credits like Game of Thrones, the Star Wars franchise, Blade Runner 2049 and The Great British Bake Off. Our 16 years of alumni work in production at Warner Bros, Sony and Universal, and post-production at Envy, Technicolor, White House Post, Molinare and Evolution. They've also secured roles in production design at Lucasfilm, and in the camera department for shows screened on the Discovery Channel.
Our graduates' work has been featured at world-class festivals, secured development from the BFI and BAFTA, and been published in titles like Total Film, The Telegraph, The Guardian and Little White Lies.
Student placements have included NBC/Universal Pictures Hothouse, Envy Academy, Sky, Cannes Film Festival, MTV, BBC and Channel 4. We've also produced a slate of feature films on our campus, including the multi-award-winning Wilderness (Doherty, 2017).
Apply via UCAS
Ready to join us? You can apply for September 2022 through Clearing or for September 2023 through UCAS Apply and Track. You'll need to reference the course and University code (F33).
Applying as an international student? 
International students can apply for a course through UCAS, via an agent or directly with the university. For more information about how to apply as an international student, visit our International applications page. 
| Course route | UCAS code |
| --- | --- |
| Film BA(Hons) three year degree | W610 |
| Film BA(Hons) with Integrated Foundation Year (new for entry year 2023) | FY24 |
We consider all applications on their own individual merit and potential. We invite all applicants to an interview day or audition to give them the opportunity to demonstrate this along with what inspires and motivates them in their field. Applicants will also be able to show their portfolio or give a performance depending on the course. We welcome applications from all subject backgrounds, whether you've specialised in STEM, the arts or humanities.  
| Course route | Entry requirements |
| --- | --- |
| BA/BSc(Hons) three year degree | 104 – 120 UCAS Tariff points |
| BA/BSc(Hons) four year degree with Integrated Foundation Year | 80 – 120 UCAS Tariff points |
UCAS Tariff points will primarily be from Level 3 qualifications such as but not limited to A-levels, T Levels, a BTEC/UAL Extended Diploma or a Foundation Diploma.
For applicants whose first language is English we require you to have or be working towards GCSE English Language Grade 4 (C), or equivalent. 
If English is not your first language you will need to meet the same standard which is equivalent to the IELTS Academic 6.0 overall score, with at least 5.5 in Reading, Writing, Speaking and Listening. We accept a range of in country equivalencies and approved tests.  
If you need a student visa to study in the UK, you'll need to take a recognised language test that is approved and vouched for by the University. You can read our English Language Requirements for more information.
For starting your studies in 2022
UK applications: 26 January 2022 (for equal consideration)
Applications after the 26 January will be considered on a first-come, first-served as long as there are places available. Apply for this course now.
For starting your studies in 2023
UK applications: 25 January 2023 (for equal consideration)
Applications after the 25 January will be considered on a first-come, first-served as long as there are places available. Apply for this course now.
International fee payers
International fee payers can apply throughout the year. But we recommend applying as early as possible, to make time for visa and travel arrangements.
What we're looking for
We want someone who:
Can identify what led them to apply.
Understands film's cultural and historical contexts.
Can develop their potential in communication.
Can self-motivate, work well in a team and never give up.
Tuition fees
| Annual tuition fee | Student |
| --- | --- |
| £9,250 per year | Full-time UK |
| £17,460 per year | Full-time EU/international |
| Annual tuition fee | Student |
| --- | --- |
| £9,250 per year | Full-time UK |
| £17,460 per year | Full-time EU/international |
Tuition fees are set annually and are subject to review each year. The University may therefore raise tuition fees in the second or subsequent years of a course, in line with inflation and/or the maximum permitted by law or Government policy. Students will be notified of any changes as soon as possible. 
The figures above don't include accommodation and living costs
Typical course costs
If you need to bring equipment or materials with you, these will be outlined in your Welcome Letter.
Additional typical course costs for Integrated Foundation Year pathway
£250 for materials
A laptop/desktop computer
Adobe Creative Suite
In order to participate in our digitally enhanced learning approach, you'll need to have a personal laptop/desktop computer. Depending on your subject, you may need a specific type of computer. If you're unsure about what you might need, please contact our course advisors.
What better way to find out about life at Falmouth University than by asking our current students?
From course details and academic support, to the social scene and settling in, our students are ready and available to answer any questions you might have. Simply set up your account, send them a question and they'll get back to you within 24 hours.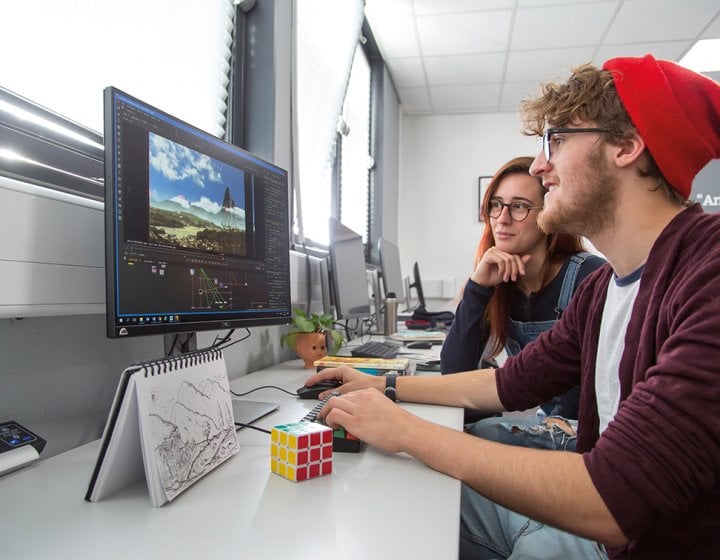 Post Production & Visual Effects_2022
Post Production & Visual Effects BA(Hons)
Kick-start a diverse and successful career by embarking on an exciting programme that covers all asp...
Post Production & Visual Effects BA(Hons)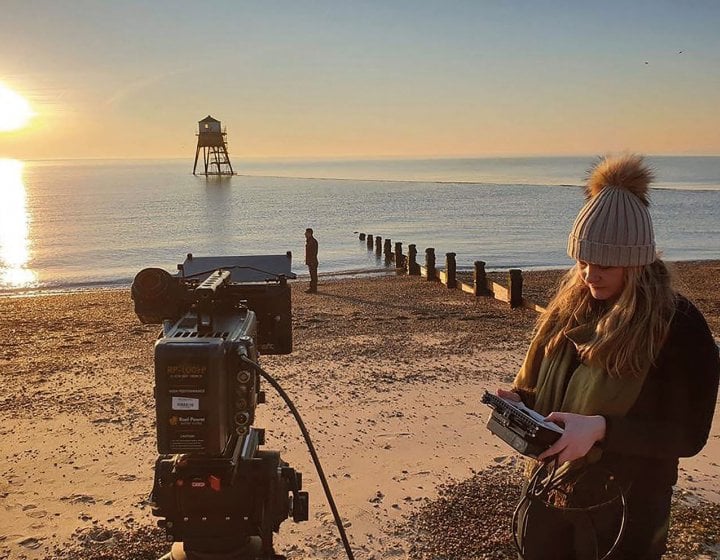 Television - 2023
Television BA(Hons)
Discover how to create everything from high-end dramas with full scale crews through to fast moving ...
Television BA(Hons)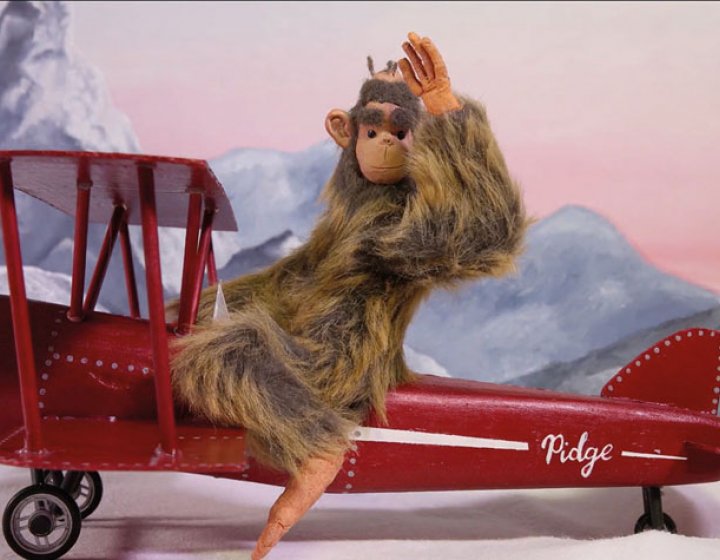 Animation 2023 lead image
Animation BA(Hons)
Bring your ideas to life through the world of animation. We'll support you in developing original,...
Animation BA(Hons)