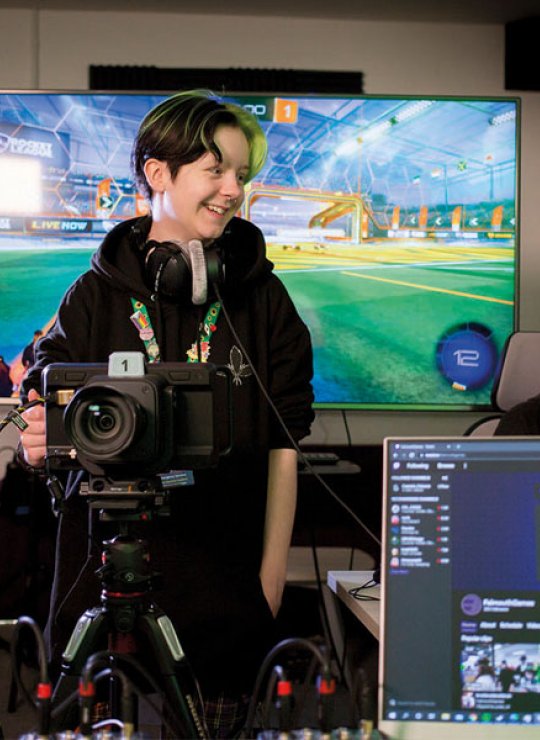 Esports & Livestreaming BA(Hons)
Get ahead of the fast-evolving esports and livestreaming industries.
Key details
Course duration
3 years / 4 years
Course overview
This course is new for entry year 2022
Learning from experts across esports, media communications, business and games, you'll gain the contextual knowledge, experience and skills to flourish in the rapidly growing world of esports and livestreaming. 
Working within the Games Academy's esports studio, you'll collaborate with students across the University to broadcast real matches while you study, as well as striking out on your own to experiment with independent content creation.  
On top of developing the technical skills to run a live event, you'll also consider the cultural and ethical contexts of the industry and master the promotional skills needed to stand out in this competitive field.  
You will:
Learn how to set up professional livestreams to broadcast and mediate esports matches 
Build a working knowledge of different media production methods, including streaming protocols 
Develop a well-rounded appreciation for the contemporary ethical, professional, and cultural concerns facing modern esports 
Evaluate the production of livestreamed content to meet the needs of the audience and learn how to innovate to maintain audience engagement 
Develop an understanding of brand management, promotion, community outreach and public relations and how these relate to esports production 
The Integrated Foundation Year pathway for this course is new for entry year 2023. 
On this Esports degree, you'll have the opportunity to gain a BA(Hons) degree over three years or the option to study Esports BA(Hons) with Integrated Foundation Year. 
With an emphasis on learning through collaborative experiences, you'll graduate with the knowledge and skills to set up a professional live streaming network and broadcast and mediate esports matches. 
You'll delve into the theories and contexts of esports, develop strategic planning knowhow, learn end-to-end production skills and explore branding, marketing and promotion, as well as gaining an understanding of the financial, legal and ethical considerations of the industry. 
In year one, you'll gain a solid practical and theoretical foundation in the field of esports. You'll learn about the basic context in which esports are streamed, gain an understanding of the whole delivery process from start to finish, discover the roles that work together to make a project happen and explore team-working methodologies. You'll also get an introduction to digital media and creative marketing processes.
Modules
Development Foundations
You'll engage with the foundational collaborative steps involved in the development and delivery of digital products and services. 
Livestreaming Tools
In this module, you'll develop an understanding of the components and tools that make up a live networked streaming setup designed for online spectatorship. 
Marketing & Digital Media 
You'll enhance your understanding of the importance of digital media and how to utilise creative marketing processes within the experience sector.  
Data Fundamentals 
You'll learn to use computer systems to process and analyse data. 
Multidisciplinary Teamwork 
Collaborating in multi-skilled teams, you'll deliver a proof-of-concept for a digital product or service. 
Esports Production 
In this module, you'll explore the components that make up streamed content designed for online spectatorship. 
In year two of this Esports degree, your growing knowledge and skills will be put to the test with practical projects. You'll define and execute a solo esports, livestreaming or content creation project and work in a team to respond to a project brief. You'll consider the game-specific factors that impact spectator experience, encounter the legal, regulatory, financial and ethical considerations for running an esports business and develop an understanding of branding and promotion.
Modules
Legal and Financial Management in the Experience Sector
Through this introduction to the legal and financial elements of the industry, you'll learn to accurately interpret and respond to financial data and legislative considerations.
Individual Esports Project
You'll strike out on your own to explore content creation and media production as part of a solo project. You can focus on esports or digital content creation more generally.
Media Lab
You'll explore the creative opportunities and ethical implications of media technologies and advertising platforms. 
Esports Event
You'll work in a team to deliver a livestreamed esports event, considering the impact of key decisions on spectator engagement such as:  physical vs. digital delivery, game specific factors, flow, length and mediation.  
Backed by the lessons learned in the Media Lab module, you'll also consider online promotion and community engagement. 
Collaboration
Working as part of a team, you'll work on 'Challenge Briefs' that reflect the sort of assignments you could expect to be working on in industry. Developing your 'soft skills', like communication, problem-solving, critical thinking and leadership, you'll sharpen your ability to work well as part of a group to produce outstanding work. 
Esports Studies 
In this module, you'll explore the historical context, theories and concepts that surround esports and related disciplines, such as sports and visual media.  
The final year of your Esports & Livestreaming degree is all about preparing for industry. You'll gain vital entrepreneurial know-how and finesse your practical skills by doing it for real. Working in a team, you'll deliver a large-scale, long-term esports event management project, which you'll present at the end of year show. To support this practical project, you'll write an extended essay based on a specific game and/or esports research topic. 
Teaching is geared around developing your professional practice and portfolio, helping you to build contacts and support your transition to employment, potentially including the creation of your own company. 
Modules
Professional Portfolio 
With guidance and mentoring, you'll advance and consolidate your knowledge of the enterprise and employment context of your relevant industry through the completion of a professional portfolio.
Future Skills  
You'll cultivate your professional journey, developing an understanding of your skills in the context of industry and employment. You'll be equipped with the confidence to articulate your knowledge and abilities, and evidence how you can apply them to real world challenges. 
Working on a collaborative or solo project, you'll deliver real results, whether that's a profit on some seed funding, a professional portfolio of work, or a solution to a real-world challenge from industry. 
Esports Live Performance 
You'll plan, rehearse and deliver the inaugural broadcast that will kickstart a series of esports broadcasts. 
Future of Games 
This theory-based module will help you build a greater awareness of the evolving nature of games and esports. You'll deepen your understanding of the cultural, social and political contexts within which games and esports are made, played and perceived. 
Major Collaboration 
In the final module, you'll develop professional autonomy as you collaborate in multi-skilled teams to produce a market-viable service or product based on your own intellectual property. 
Why study an Integrated Foundation Year route?
If you're taking on a new subject that you haven't studied in depth before, have been out of education for a while or have a non-standard educational background then an Integrated Foundation Year degree may be the right choice for you. It is a four-year degree with an Integrated Foundation Year to start, which allows you to explore the primary elements of your subject before progressing on to the remaining three years of the BA(Hons) degree.
What you'll learn
If you choose this pathway, you'll study five core modules in your Foundation year. These are all designed to help you explore the foundational elements of your subject. You'll gain relevant technical skills, learn to experiment and take risks, develop an understanding of professional practice, have opportunities to work across disciplines and collaborate with other students on live project briefs.
Modules
Explore
You'll begin your foundation year by working collaboratively with others to explore themes of the future. You'll take risks, experiment through play and be supported to break through barriers.
Technique
You'll take subject-specific workshops and develop essential technical and practical skills in your area of study. You'll also enhance your analytical and organisational abilities.
Apply
You'll work with your peer group to think beyond discipline by addressing a societal or global issue. You'll then showcase your work to your peers and deliver and accompanying evaluation of your process.
Industry
You'll enhance your creative and practical skills in your subject specialism by responding to typical industry briefs, underpinned by focused research and experiments. You'll also gain industry insights through guest lectures and workshops.
Launch
You'll develop your unique identity in your specialism through the production of a self-initiated body of work. Your final project will be the bridge to your next year, fully supported by evaluative reviews and critical analysis of the work you have created.
After the Foundation year, you progress into Year One of the full three-year degree, equipped with a deeper knowledge of your subject, a clear understanding of your strengths, and develop a practical and technical skillset and the confidence to excel in your chosen subject.
The Integrated Foundation Year pathway for this course is new for entry year 2023 and subject to validation.
The modules above are those being studied by our students, or proposed new ones. Programme structures and modules can change as part of our curriculum enhancement and review processes. If a certain module is important to you, please discuss it with the Course Leader.
From module information to course aims and assessment criteria, discover the full course details. 
How you'll learn
The delivery of esports events requires a broad-ranging skillset. While you'll predominantly learn from staff within the Games Academy, you'll also tap into the expertise of lecturers from the wider University. You'll learn through lectures, seminars and practical workshops in an esports lab – getting hands-on experience with streaming live matches.
At Falmouth, we use a 'digitally enhanced learning & teaching' approach. Your experience will always be predominantly in-person, including seminars, tutorials and studio teaching, with some, more targeted elements, being online either live (synchronous) or pre-recorded (asynchronous). You can read more here.
How you'll spend your time
How you'll be assessed
Year

Written exams

Practical exams

Coursework

Integrated
Foundation
Year
(optional)

0%

0%

100%

1

0%

0%

100%

2

0%

0%

100%

3

0%

0%

100%
 *These percentages are indicative and may vary
Assessment methods
You'll be assessed through a variety of methods, including: 
Short-form theory essays 
Business cases 
Group and solo practical projects 
Foundation year assessments are 100% coursework based. 
What our students do
Check out the stories below to see what students from the Games Academy have been up to lately.
Staff
You'll learn from staff with expertise across a range of disciplines including business, audio visual equipment management, computer science, games studies, as well as practical industry experience relating to esports. Our staff also have strong connections to sports organisations and production companies, such as the British Esports Association, Supercell Esports, Codices.io, as well as international esports research and education institutions.
Some members of staff only teach on specific modules, and your course might not feature every staff member who teaches on the course.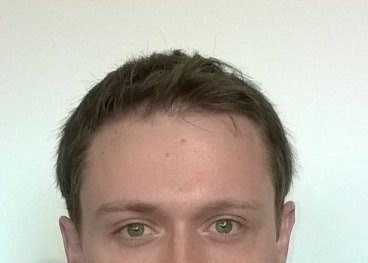 Rory Summerley
Lecturer
Rory is a games studies researcher who has written and lectured on a diverse range of games-related ...
Rory Summerley
Facilities
The Games Academy has one of the largest dedicated game development studio spaces of any UK university. Our students have access to spacious, team-focused, professional-standard studios; as well as a dedicated craft room, breakout spaces and a range of industry-standard software and tools.
Game Development studio space
Esports studio
Industry-standard tools and software such as:
VR Headest (HTC Vive, Value Index)
Motion Capture Suits
Unity
Unreal Engine
Material Costs estimate:
High-specification gaming PCs
Gaming Chairs
Desks (1400mm)
PC Monitors (Razr Raptor 27in)
Playstation 5 Consoles
Console monitors (LGCX48)
Network Switch
Control Surface
Broadcast PCs (Production, Observation, Diagnostic)
Streaming camera (PTZOptics)
Microphone (Sennheiser G4 handheld)
Lights (Kinoflow Divalight 20)
Black Magic Studio camera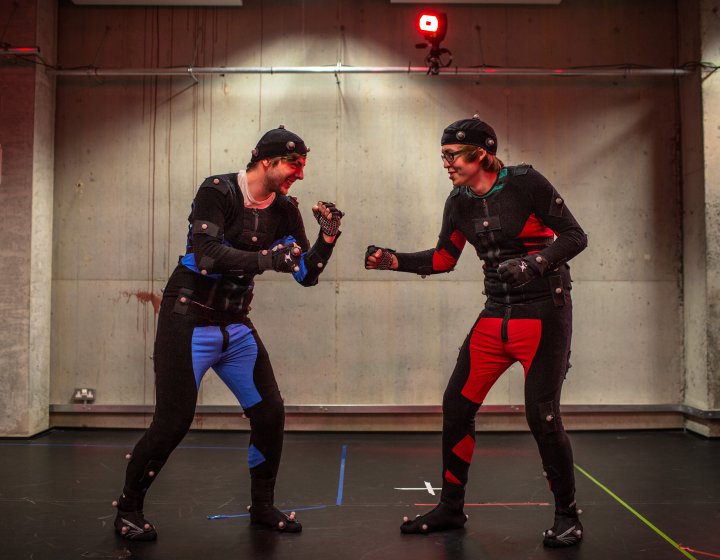 games academy fight
Games Academy Facilities
Our Games Academy offers professional-standard studios, a dedicated craft room, breakout spaces, and...
Games Academy Facilities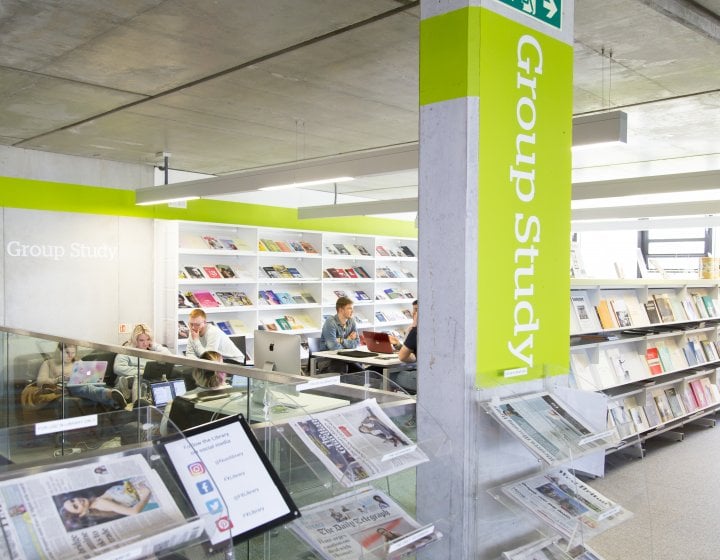 Penryn library group study area
Library Facilities
Offering extensive collections, our two libraries provide a wealth of digital resources, magazines, ...
Library Facilities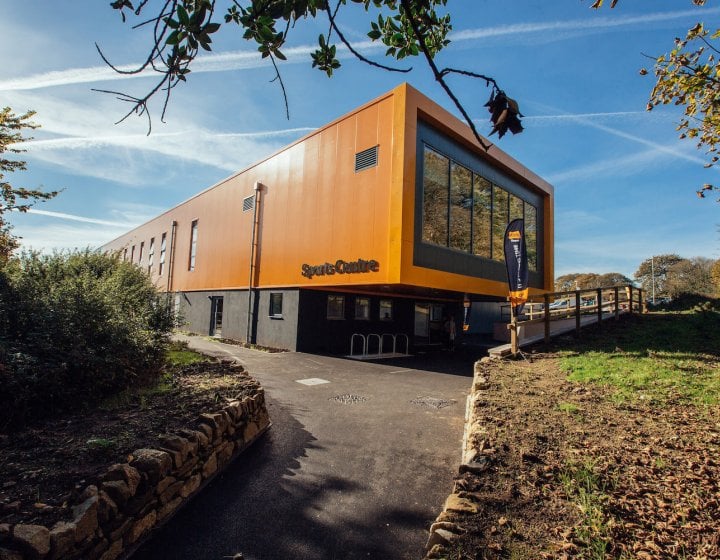 Sports Centre - Outside
Sports Centre
Sports Centre
Our Sports Centre, on Penryn Campus, includes a spacious gym with up to 90 of the latest, new statio...
Sports Centre
The following companies and roles could be potential destinations for graduates:  
Esports production companies such as ESL, PGL Esports, Esports Engine, or Dreamhack   
Esports white label companies such as those that help set up events like BlizzCon  
Community management positions at developer-publishers such as Activision Blizzard, Supercell, or Riot games  
Adjacent live streaming opportunities working for non-esports broadcasters and content creation hubs  
Streaming platforms such as Twitch and YouTube  
Specific potential roles include:  
Live streaming producer   
Event manager    
Technical/camera director    
AV/lighting technician   
Graphics director    
Replay operator/in-game observer   
Floor manager    
Technical manager   
Esport strategy analyst    
Esport community manager    
Shoutcaster/host   
Independent live streamer/content creator    
PR/marketing agent    
Esports product manager 
Apply via UCAS
Ready to join us? You can apply for September 2022 through Clearing or for September 2023 through UCAS Apply and Track. You'll need to reference the course and University code (F33).
Applying as an international student? 
International students can apply for a course through UCAS, via an agent or directly with the university. For more information about how to apply as an international student, visit our International applications page.
| Course route | UCAS code |
| --- | --- |
| Esports & Livestreaming BA(Hons) three year degree | N881 |
| Esports & Livestreaming BA(Hons) with Integrated Foundation Year (new for entry year 2023) | FY60 |
We consider all applications on their own individual merit and potential. We invite all applicants to an interview day or audition to give them the opportunity to demonstrate this along with what inspires and motivates them in their field. Applicants will also be able to show their portfolio or give a performance depending on the course. We welcome applications from all subject backgrounds, whether you've specialised in STEM, the arts or humanities.  
| Course route | Entry requirements |
| --- | --- |
| BA/BSc(Hons) three year degree | 104 – 120 UCAS Tariff points |
| BA/BSc(Hons) four year degree with Integrated Foundation Year | 80 – 120 UCAS Tariff points |
UCAS Tariff points will primarily be from Level 3 qualifications such as but not limited to A-levels, T Levels, a BTEC/UAL Extended Diploma or a Foundation Diploma.
For applicants whose first language is English we require you to have or be working towards GCSE English Language Grade 4 (C), or equivalent. 
If English is not your first language you will need to meet the same standard which is equivalent to the IELTS Academic 6.0 overall score, with at least 5.5 in Reading, Writing, Speaking and Listening. We accept a range of in country equivalencies and approved tests.  
If you need a student visa to study in the UK, you'll need to take a recognised language test that is approved and vouched for by the University. You can read our English Language Requirements for more information.
For starting your studies in 2022
UK applications: 26 January 2022 (for equal consideration)
Applications after the 26 January will be considered on a first-come, first-served as long as there are places available. Apply for this course now.
For starting your studies in 2023
UK applications: 25 January 2023 (for equal consideration)
Applications after the 25 January will be considered on a first-come, first-served as long as there are places available. Apply for this course now.
International fee payers
International fee payers can apply throughout the year. But we recommend applying as early as possible, to make time for visa and travel arrangements.
What we're looking for
We're looking for students who are interested in how esports productions are put together – from ideation to promotion to broadcast. You should be enthusiastic about creating, sharing and promoting exciting content for future online audiences everywhere. 
Tuition fees
| Annual tuition fee | Student |
| --- | --- |
| £9,250 per year | Full-time UK |
| £17,460 per year | Full-time EU/international |
| Annual tuition fee | Student |
| --- | --- |
| £9,250 per year | Full-time UK |
| £17,460 per year | Full-time EU/international |
Tuition fees are set annually and are subject to review each year. The University may therefore raise tuition fees in the second or subsequent years of a course, in line with inflation and/or the maximum permitted by law or Government policy. Students will be notified of any changes as soon as possible. 
The figures above don't include accommodation and living costs
Typical course costs
Recurring annual costs 
£100  
One-off costs for the duration of the course 
£1500 - Personal computer 
A desktop and/or laptop with a streaming setup including a camera, microphone, and high-speed Internet connection are beneficial but not mandatory. 
Desktop PC Specifications 
Restock and Reloaded Gaming PC £899.99 
Processor: Intel Core i5 12400F 
Memory: 16GB (2x8GB) Corsair Vengeance LPX 3600MHz DDR4 
Storage: 1TB SSD 
Graphics: 12GB ASUS GeForce RTX 3060 
Windows 11 
Peripherals: Monitor, mouse, keyboard 
Laptop PC Specifications 
GIGABYTE G5 15.6" Gaming Laptop £799.00 

Intel® Core™ i5-10500H Processor 
NVIDIA GeForce RTX 3060 6gb 
16 GB DDR4 (2933 MHz) 
512 GB PCIe SSD 
Windows 11 
Peripherals: Monitor, mouse, keyboard
£30- £150 - Headset with microphone  
£25-£100 - Webcam  
£70 - Optional reading 
Additional typical course costs for Integrated Foundation Year pathway
£250 for materials
A laptop/desktop computer
Adobe Creative Suite
In order to participate in our digitally enhanced learning approach, you'll need to have a personal laptop/desktop computer. Depending on your subject, you may need a specific type of computer. If you're unsure about what you might need, please contact our course advisors.
What better way to find out about life at Falmouth University than by asking our current students?
From course details and academic support, to the social scene and settling in, our students are ready and available to answer any questions you might have. Simply set up your account, send them a question and they'll get back to you within 24 hours.