Lecturer, BA(Hons) Creative Music Technology
Originally from Canada, Norah is a computer musician, computer programmer and composer who has performed at concerts, algoraves, festivals and installations throughout the UK, Canada, Australia, Slovenia, Belgium, Sweden, Greece, Denmark, and Japan, amongst other countries. Work featured in festivals such as ISEA, NIME, ICLC, Incubate (NL), Norgberg Festival (Sweden) and has been written about in international media such as Mixmag. Norah also writes music for film and other related media, including her recent film score for Anthropocene: The Human Epoch which was premiered at festivals such as the Toronto International Film Festival (September 2018), Sundance Film Festival (January 2019), Berlin International Film Festival (February 2019) amongst others. 

Norah's research focused on human centred artificial intelligence, live coding, VR/AR experiences, gesture control, digital musical instrument design, and new media medicine. She has worked with the Birmingham Electroacoustic Sound Theatre (BEAST), founded various laptop ensembles in the UK and Canada and maintains an active performance career in Europe and Canada. 

Previous to Falmouth, Norah was a postdoctoral research fellow at University of British Columbia (Vancouver, Canada), where she worked at the The Institute for Computing, Information and Cognitive Systems (ICICS) and School of Music on several projects relating to instrument design, interactivity and live coding, funded by Canada Council for the Arts. She was also recipient of Canada Council's Robert Fleming Award for outstanding Canadian composer during this time. Current research includes work intersecting health and technology, using wearable technologies and VR/MR. 

In 2015, Norah founded Hex DB labs, a software consulting company which creates software solutions for various high end audio companies, scientific research and more. She is also an Immersion Fellow, as part of the Southwest Creative Technology Network funded by Research England. 



External Links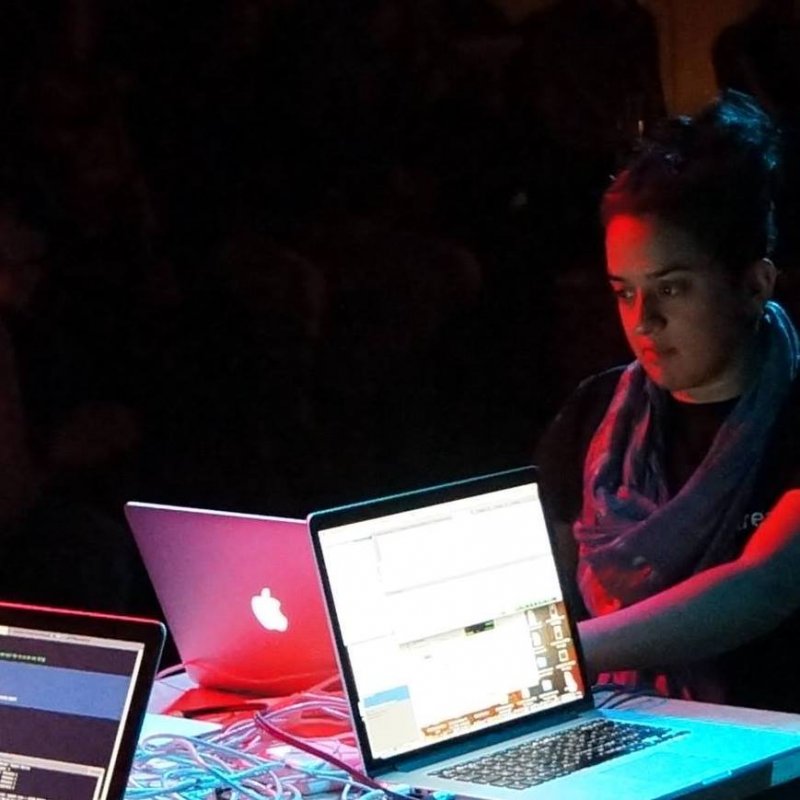 Contact details
Qualifications
| Year | Qualification | Awarding body |
| --- | --- | --- |
| 2014 | Ph.D | University of Birmingham |
| 2010 | Masters | University of Calgary |
| 2007 | B.Mus | Mount Allison University |
Honors and awards
| Year | Description |
| --- | --- |
| 2014 | Robert Fleming Prize for Outstanding Canadian Composer |
| 2019 | Sundance "18 Women Composers You Should Know" mention, Sundance Film Festival |
| 2019 | Nominated for "Outstanding Achievement in Original Music Score" for Anthropocene: The Human Epoch; Cinema Eye Honors Awards, New York USA |
Membership of external committees
SOCAN
Research interests and expertise
My current research interests and expertise include human centered artificial intelligence,  live coding performance, VR/MR immersive game experiences, software development for health and scientific research, new media medicine, digital instrument design, multichannel composition, software development for musical applications, smart design and e-textile creation. 

Am happy to discuss postgraduate research supervision possibilities in the above mentioned areas. 
Research Topics
Artificial Intelligence
Immersion
Live Coding
Live Networked Computer Music
Mental Health
Publications and research outputs
Article
Report or Working Paper
Conference or Workshop Item
Lorway, Norah

ORCID: https://orcid.org/0000-0001-8179-6255

,

Powley, Edward

ORCID: https://orcid.org/0000-0002-7317-7304

,

Wilson, Arthur

,

Speakman, John A.

and

Jarvis, Matthew

(2019) Autopia: An AI Collaborator for Live Coding Music Performances. In: International Conference on Live Coding, 5-7 February 2020, University of Limerick, Ireland.
Wilson, Scott

,

Lorway, Norah

ORCID: https://orcid.org/0000-0001-8179-6255

,

Moyers, Tim

,

Coull, Rosalyn

and

Kuoppala, Visa

(2012) Stirring up Pea Stew: A Network Feedback Structure for Live Coding. In: International Conference on Live Interfaces: Performance, Art, Music, September 7-8 2012, University of Leeds, UK.
Composition
Performance
Media
Externally funded research grants information
| Collaborators | Currency | Funder | HESA Category | Project title | Value | Year ending | Year starting |
| --- | --- | --- | --- | --- | --- | --- | --- |
| | | Canada Council for the Arts | | PIPE: Personal Interface for Performance Environments | | 2016 | 2014 |
| | | Research England | | Southwest Creative Technology Network Immersion Fellowship | | | 2018 |
Courses taught
Creative Music Technology BA(Hons)