Associate Professor of Film Practice and Pedagogy
Since arriving at Falmouth University in April 2013 I have fallen in love with Cornwall and found a new lease of creative, academic and teaching life. I became Associate Professor of Film Practice and Pedagogy in April 2021.
My main professorial responsibility is leading the Sound/Image Cinema Lab. The Lab is a multifaceted partner, funder, resource and research centre dedicated to the production and education of independent cinema. In 2020 the Lab won an innovative pedagogy award at the University Industry Innovation Network where I was recognised as a trailblazer. The Lab has been involved in feature films including Bait (dir. Mark Jenkin, 2018) and Make Up (dir. Clare Oakley, 2019).
In 2016 I wrote and produced my first my first feature film 'Wilderness' (http://www.baracoapictures.com/). 'Wilderness' was funded by The School of Film & Television and was created as part of an innovative micro-budget filmmaking model I have developed. This film project has brought together my practice as a screenwriter and producer and my research interest in film education. I delivered a paper on the project at the 2017 MECCSA/BAFTSS Media Practice Symposium at Bath Spa University and published a journal article in Media Practice and Education in 2018. In 2017 the film toured festivals playing 16 events such as Cinequest Film & VR Festival, Cambridge Film Festival and Oaxaca Film Festival, winning 11 awards including Best Feature Screenplay at the Chain NYC and Vasteras Film Festivals.
The film was picked up for distribution by Sparky Pictures and released digitally around the world in April 2021.
In January 2018 I wrote and produced a short film, Backwoods, for Film at Falmouth graduate Ryan Mackfall. The project built on ideas and philosophies first developed on 'Wilderness' and had its world premiere at the 2019 H.P. Lovecraft film festival in Portland, Oregon (October, 2019). It won the HP Lovecraft award at Flickers Rhode Island Film Festival, is featured in Kier-La Janisse's lauded documentary Woodlands Dark and Days Bewitched (2021) and is included as a special feature on that film's blu-ray release.
I am the co-founder and host of the acclaimed film podcast The Cinematologists (http://www.cinematologists.com/) in partnership with Dr. Dario Llinares at the University of Brighton. Mark Kermode says "for intelligent, informed cinema debate, The Cinematologists are hard to beat" and Sight & Sound call it "consistently one of the finest film podcasts around.
The podcast is the official partner podcast of the BFI for their National film seasons. In 2016 we produced a special episode of the podcast titled Knowing Sounds for a special 'disruptive' edition of the Journal of Media Practice. I am the co-editor of Podcasting: New Aural Cultures and Digital Media, published in 2018 by Palgrave Macmillan.
I have written and produced award winning short films including It's Natural To Be Afraid, curated and directed the Filmstock and Joe Strummer film festivals among others and write for sites and publications including The Quietus, Beneficial Shock, Clash magazine, The Big Picture and Directors Notes. I have published academic writing on the Beastie Boys, Manchester in the Movies, Podcasting and music documentaries. I completed a professional doctorate awarded by University of Bedfordshire in the field of film education in 2015 and in 2016 become a Fellow of the Higher Education Academy.
I am an external examiner of postgraduate film courses at University of Salford and University of Hertfordshire
I am a contributing editor of the journal MAI: Feminism and Visual Culture (https://maifeminism.com/journal/) and have published long-form interviews with filmmakers Hope Dickson Leach and Lynn Shelton.
External Links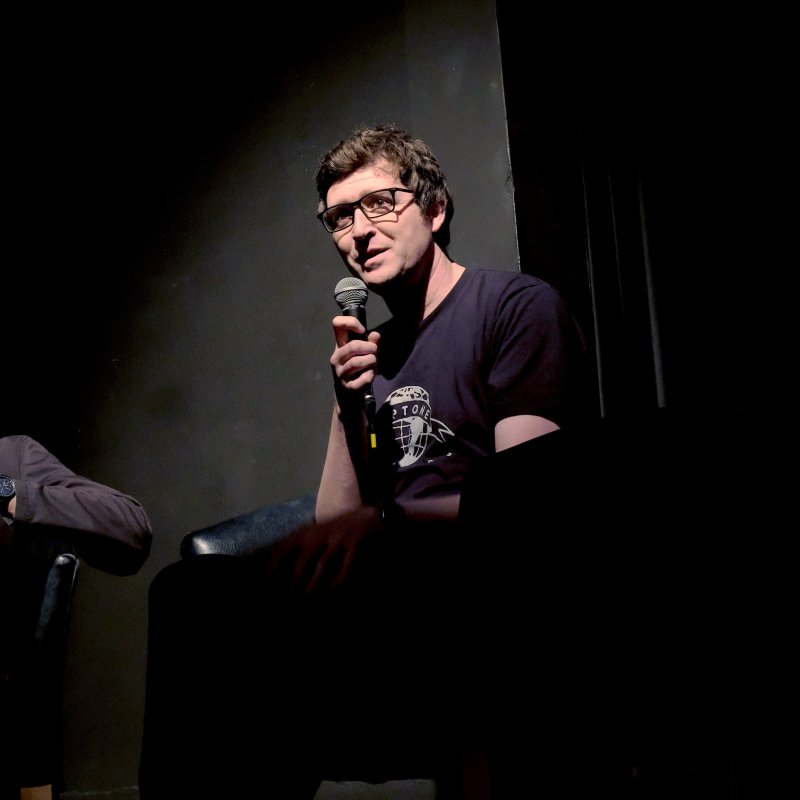 Contact details
Qualifications
| Year | Qualification | Awarding body |
| --- | --- | --- |
| 2016 | FHEA | HEA |
| 2015 | PGCHE | Falmouth University |
| 2014 | Professional Doctorate | University of Bedfordshire |
| 2000 | BA Film & English and Literary Studes | Middlesex University |
Honors and awards
| Year | Description |
| --- | --- |
| 2017 | Industry Collaboration Award |
| 2017 | Best Feature Screenplay / Chain NYC Film Festival, for 'Wilderness' |
| 2017 | Best Feature Screenplay / Vasteras Film Festival, for 'Wilderness' |
| 2016 | Innovative Teaching Award (nominated) |
| 2015 | Innovative Teaching Award |
Membership of external committees
MECCSA
Research interests and expertise
My research interests include film education - predominantly the teaching of film within universities, the process of screenwriting, podcasting, music documentaries and concert films.


Research Topics
film education
Music
podcasting
rock documentary
Screenwriting
Publications and research outputs
Article
Book Section
Conference or Workshop Item
Book
Media
Website Content
Other
Events
2018
Film at Falmouth Spring Lecture Series
Events
2017
Film at Falmouth Autumn Lecture Series
Events
2017
School of Film & Television Spring Lecture Series
Events
2016
School of Film & Television Spring Lecture Series
Events
2016
School of Film & Television Autumn Lecture Series
Events
2015
Pixelate Film Festival - annual School of Film & Television showcase
Events
2015
School of Film & Television Spring Lecture Series
Events
2014
School of Film & Television Autumn Guest Lecture Series
Areas of teaching
dissertation
film industry
film production
Film Theory
Screenwriting
Courses taught
BA(Hons) Film
MA Film & Television