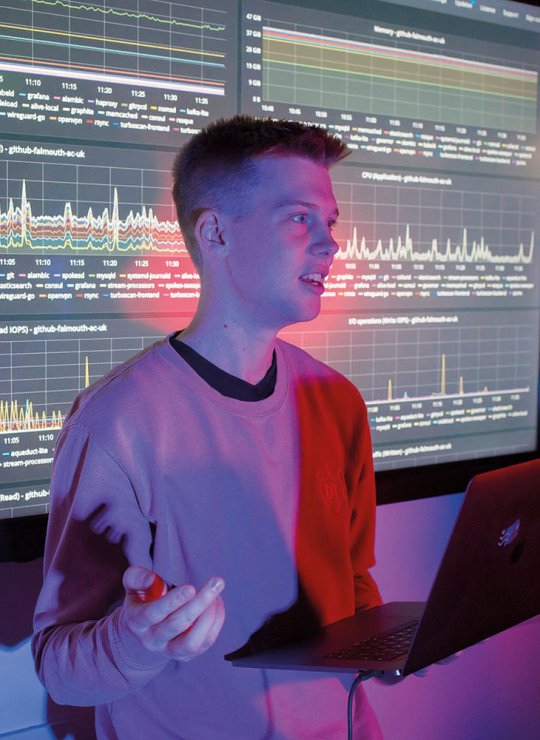 Data Science BSc(Hons)
Give yourself the edge with a blend of data science skills and entrepreneurial know-how.
Key details
Course duration
3 years / 4 years
Attendance
Full-time / Sandwich
UCAS code
I1DA / I1DC/ FY37
Subject to validation during this academic year
Course overview
This course is new for entry year 2023
You'll become a confident and daring data scientist, able to leverage artificial intelligence, machine learning and contemporary statistics to deliver insight through the collection and analysis of data.
Set apart from traditional approaches, this data science course combines technical foundations in information technology and statistics with Falmouth's visual arts expertise to champion the visualisation of data and the communication of insights.
Choose between a three-year degree or a four-year degree with either Integrated Foundation Year or a year of professional practice.
You will:
Join a community of technologists from games, immersive computing, robotics, artificial intelligence and user experience
Learn from academic and industry experts with extensive knowledge of machine learning technologies across a range of contexts
Master the computing and mathematical foundations necessary to leverage cutting edge technologies to synthesise insights from data, using Agile methodologies
Utilise research to push the boundaries of data visualisation, enriching the way people engage with data
Work with businesses through challenge-led briefs, with the chance to realise and launch your own products and services
Engage in multidisciplinary practice with students across the University, with the flexibility to choose a specialist focus