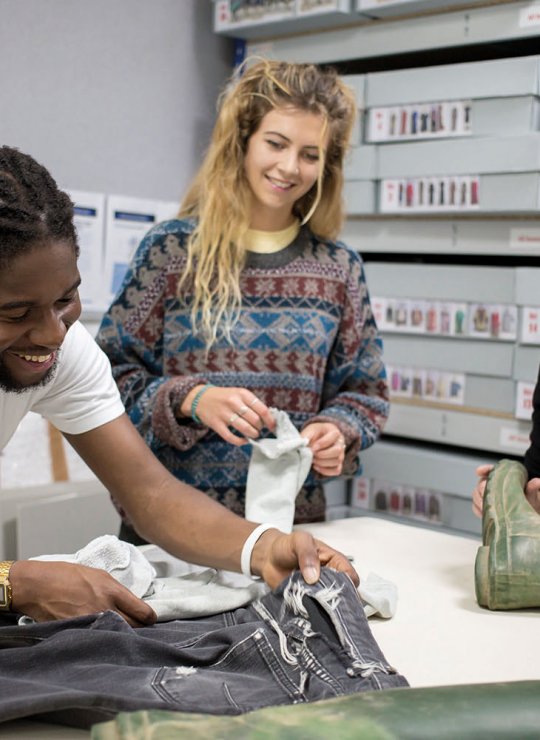 Costume Design for Film & Television BA(Hons)
Cultivate the skills to enter the world of costume design on-screen.
Key details
Course duration
3 years / 4 years
Course overview
Be part of a course designed by industry, for industry, working in an environment that mirrors current professional practices. Using your creative talents, you'll develop the skills and knowledge needed to influence the future of costume on screen with this practical and industry-focused costume design degree. Learning from industry professionals, you'll develop in-demand expertise in garment design, acquisition, alteration and creation to bring characters to life.
You'll collaborate across disciplines to grow your creative and professional network, while exploring the social, cultural and environmental factors that influence the most memorable costume designs of our time.  
You will:
Gain core skills such as drawing, cutting, wardrobe pulling and fitting techniques 
Explore the influences of society, psychology, environment and culture on costume and character development 
Enhance your design profile by analysing industry applications such as music promos, commercials and costume breakdowns, and use this knowledge for innovative challenge-based projects 
Utilise the incredible resources of our Wardrobe Store and Textiles & Dress Collection to achieve your vision of a character 
Refine your skills as a costume practitioner in your final year through a collaborative screen production project to develop your professional portfolio 
The Integrated Foundation Year pathway for this course is new for entry year 2023 and subject to validation.
The course is one of the few undergraduate programmes recognised by BAFTA UK as an eligible course for the BAFTA UK Scholarship programme.